Yes, the legend continues and is back for another model year. Welcome to the 2020 Nissan GT-R Nismo, which is making its public debut at the New York International Auto Show this week.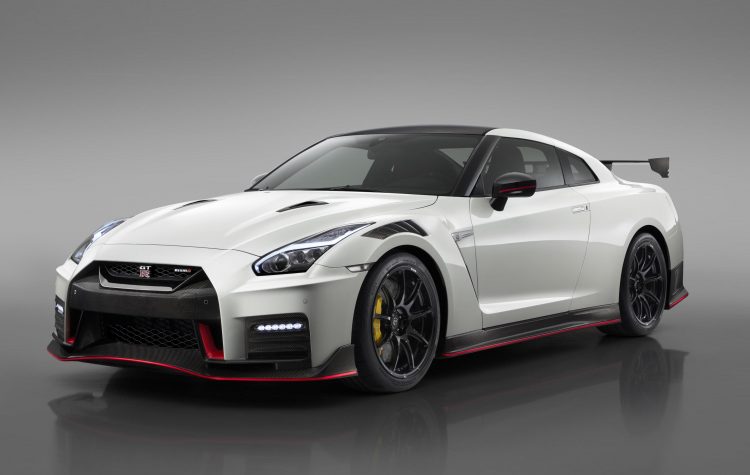 For the 2020 model, Nissan has made some revisions to help reduce weight and improve overall performance. To start with, a set of fresh 20-inch RAYS forged aluminium wheels are fitted. These are a bit lighter than before and adopt a nine-spoke design for increased rigidity. Wrapping the wheels is a newly-developed Dunlop tyre that presents a wider tread with fewer grooves. The new tyres increase the contact patch by 11 per cent over the outgoing model, Nissan says.
Engineers have also made "small tweaks to squeeze out as much as possible from the engine and chassis," according to Hiroshi Tamura, chief product specialist for the GT-R. The engine continues to produce 447kW (441kW in Australia, possibly just a conversion inaccuracy from horsepower), but the turbocharger turbine wheel is revised and uses fewer blades. The new wheel optimises its flow rate and improves response by 20 per cent.
Like the regular 2020 GT-R update, the new Nismo gets a revised exhaust system. For the Nismo model it's pretty much a full titanium unit, showcasing burnished blue tips.
The R mode for the six-speed dual-clutch transmission has been fine-tuned so that it not only shifts faster, but also makes gearing decisions quicker, for example, when exiting corners. The adaptive shift control has been designed to adapt better to the driver's style at any given time, when in auto mode.
Some changes have been made to the suspension as well resulting in improved cornering stability and an enhanced yaw rate response. The new setup promises a smoother ride quality too, and the steering offers more precision yet requires fewer corrections at high speed.
Braking performance is enhanced thanks to new carbon ceramic discs, jumping up from 390mm units on the front to 410mm units. They are made from carbon and silica carbide which is said to be nearly as hard as diamond. Some new pads have also been installed to generate more friction while offering better feel.
Overall, Nissan says the new model is nearly 20kg lighter. Lightness is helped by carbon fibre panels, such as the front and rear bumper bars, roof, bonnet, boot, and front guards which also take on a new GT3 shape for 2020 – check out the racy vents on top. The rear wing is also made from carbon fibre.
The 2020 Nissan GT-R Nismo is set to go on sale in Australia later this year. Local prices are yet to be announced, but as a guide the current model retails from $299,000.