Some updates have been announced for the introduction of the 2019 Mazda6 range, bringing in Apple CarPlay and Android Auto and a more advanced drive system.
Headlining the update is the standard fitment of Android Auto and Apple CarPlay for the MZD Connect media interface. These connectivity systems were previously only optional on the 6. Along with the Apple and Android services, Mazda says it has also made some revisions to the FM radio so that it picks up clearer sound. It has achieved this with a second antenna.
In other areas, Mazda has given the updated model its latest G-Vectoring Control 'Plus' system. This is an extension of the regular GVC dynamics control, adding yaw moment control for improved stability and composure when cornering, Mazda says.
Lastly, the top Atenza variant welcomes a heated steering wheel to boost the overall luxury and comfort of the mid-sizer. As standard the Atenza, and the GT for that matter, come with the 2.5-litre turbo four-cylinder petrol engine. It produces 170kW and 420Nm.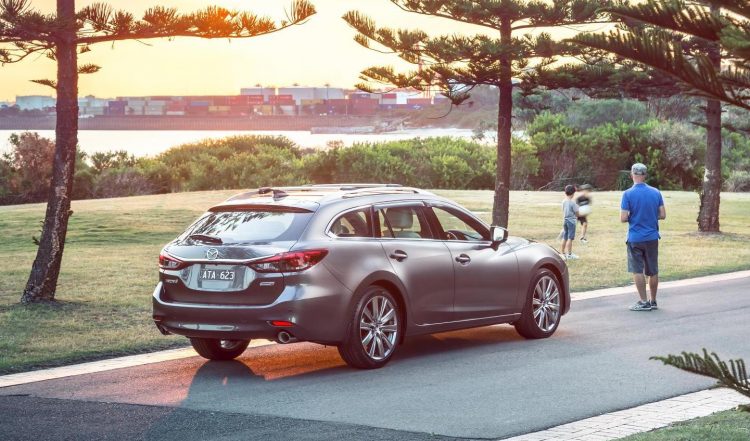 Speaking of variants, the lineup has been streamlined so it's now made up of the Sport, Touring, GT, and Atenza, split up by two petrol engines – the diesel has been dropped. The Sport and Touring use the 2.5-litre non-turbo engine, developing 140kW and 252Nm. All come with a six-speed automatic transmission with front-wheel drive. Speaking about the updated model, Mazda Australia managing director, Vinesh Bhindi, said:
"The 2018 redesign of Mazda6 saw significant improvements and equipment upgrades; this update is about fine tuning our flagship passenger car by adding the most advanced technologies available to us."
Mazda says the new model is on sale now in both sedan and wagon form. See below for the starting prices (excludes on-road costs):
2019 Mazda Sport 2.5 sedan: $34,490
2019 Mazda Touring 2.5 sedan: $38,690
2019 Mazda GT 2.5T sedan: $45,990
2019 Mazda Atenza 2.5T sedan: $49,890
2019 Mazda Sport 2.5 wagon: $35,790
2019 Mazda Touring 2.5 wagon: $39,990
2019 Mazda GT 2.5T wagon: $47,290
2019 Mazda Atenza 2.5T wagon: $51,190