Lexus Australia has announced the 2017 update for its IS 200t, IS 350, and IS 300h mid-size luxury sedans, bringing added standard features and revised technical and design elements.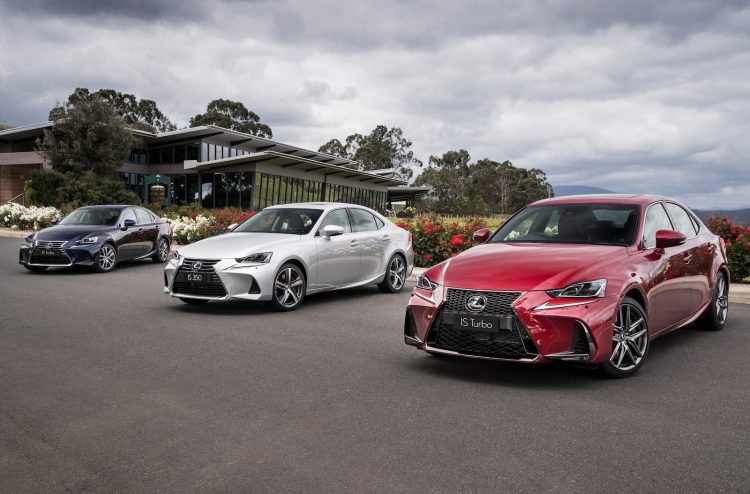 All models, spanning from the Luxury, F Sport, and Sports Luxury, now come standard with Lane Departure Warning +, sway warning, and automatic high-beams, while the F Sport and Sports Luxury gain blind-spot monitoring and rear cross-traffic alert as standard.
As for the design, the 2017 Lexus IS gets a new front bumper bar and spindle grille, LED headlights, combination taillights, and trapezoidal exhaust tips for variants with dual outlets. There's also some new alloy wheel designs, an increased overall length of 15mm, and two new colour options including Deep Blue and Graphite Black.
In terms of the technical changes, Lexus has revised the upper suspension supports, given a new aluminium front lower suspension arm and bushing, and added drive-start control for the IS 200t and IS 300h. F Sport models get a unique grille and rear bumper bar, and the Sports Luxury adds bespoke 18-inch wheels.
On the inside, the 2017 IS comes with a 10.3-inch electro multi-vision screen with an improved Lexus Remote Touch hand pad controller with added 'back' and 'enter' buttons. There's also improved parking assistant displays, revised gauges, new trim colours (Nuance Black, Noble Brown, Chateau), and laser-cut wood trimmings for some variants.
Lexus Australia chief executive Peter McGregor spoke about the model update in a statement, saying:
"Every improvement on the new Lexus IS Line has been made with the aim of enhancing the owner, driver and occupant experience. It is a typically thoughtful response to the requirement of continual improvement in everything Lexus undertakes."
The new model lineup is on sale now with prices jumping by no more than $900. Lexus says the price increases are more than justified by the increased standard features compared with the outgoing lineup. See below for starting prices (excludes on-roads):
2017 Lexus IS 200t Luxury – $59,340
2017 Lexus IS 200t F Sport – $67,480
2017 Lexus IS 200t Sports Luxury – $78,040
2017 Lexus IS 300h Luxury – $61,890
2017 Lexus IS 300h F Sport – $70,310
2017 Lexus IS 300h Sports Luxury – $81,160
2017 Lexus IS 350 Luxury – $65,390
2017 Lexus IS 350 F Sport – $73,540
2017 Lexus IS 350 Sports Luxury – $84,160