Dubai emergency services sure do like showing off wealth, with various supercar police cars roaming the region. Even the ambulance services are getting in on the trend and have just introduced a Lotus Evora ambulance for quick first response.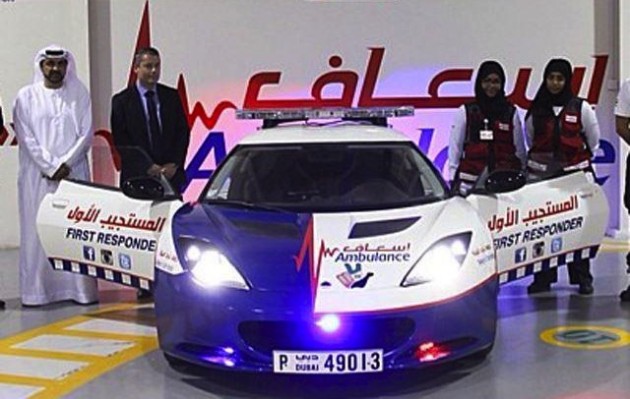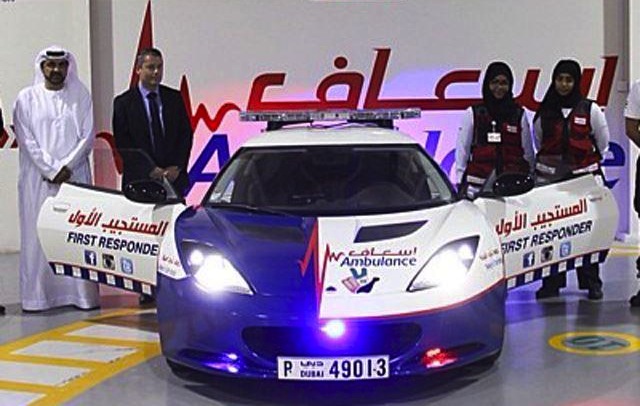 The Lotus Evora ambulance might not be able to carry passengers in the back like a regular ambulance, however, this special model has been packed with almost all equipment needed to attend and assist emergency situations.
Paramedics will be able to get to the scene much quicker than regular ambulance vehicles thanks to the Evora's natural performance talents. Once on the scene, paramedics can perform necessary duties, even revival tasks with cardiac defibrillators and oxygen bags.
A number of these vehicles will be used by the emergency service, with each driver given special training to utilise the full ability of the rear-wheel drive sports car. In standard form the Evora comes with a 3.5-litre Toyota-based V6 engine producing 206kW and 350Nm. It's able to scoot off from 0-100km/h in just 5.2 seconds.
Not to be outdone by the police, the service will also introduce special Ford Mustang response vehicles and a Chevrolet Corvette C7. It might seem rather flamboyant but there is a certain logic behind it; the faster the paramedics can get to a scene the better, right? At the very least the cars make the job more bearable for medics.