The D-Max has become a staple of the Australian ute market for years now, and for good reason: it's built tough, has a bullet-proof powertrain and offers buyers a nice balance as a workhorse that can keep up with family duties, too. Despite having introduced almost nothing new for the MY2019, Isuzu is hedging its bets that the virtues of the previous model will be enough to continue to entice buyers.
Our review car is the LS-U variant. It shows off some of the optional accessories that buyers can add, including a full wrap-around black bull-bar and integrated side rails, with an extra set of LED spotlights and fog lights, a snorkel, roof racks, satin black sports bar in the rear, tub-liner and a roller tonneau cover. This is all part of one of many packs that are available, or buyers can simply pick and choose individual parts.
The LS-U is the mid-range variant, which also includes niceties like 17-inch alloys, an eight-speaker stereo system, some chrome contrasts on the exterior, and a touch-screen infotainment system with Bluetooth and sat-nav.
Considering this is a 2019 model, the interior does feel a bit dated, particularly the infotainment system which looks as though Isuzu hasn't paid any attention to it in more than a decade. Isuzu probably figures, quite rightly, that D-Max buyers aren't interested in the latest fancy technology. Rather, the customer is interested in a tough, reliable workhorse.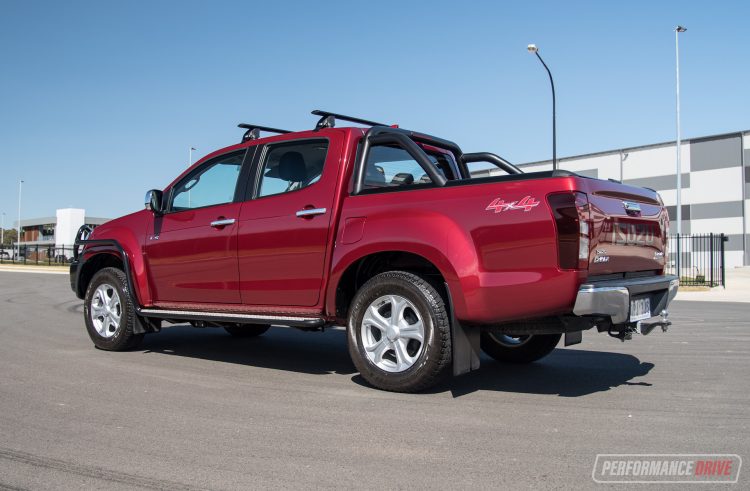 The bullet-proof 3.0-litre turbocharged four-cylinder diesel powertrain makes yet another appearance in the D-Max range, offering up 130kW of power and 430Nm of torque, with a hell of a lot of noise included. While it might not be the most powerful compared to its competitors, the D-Max still handles up to a one-tonne payload in the tray (1029kg), or 3.5-tonnes from the tow ball. Meaning, it can handle almost anything you're willing to throw at it on a weekday's work, or a weekend's worth of activities.
As a daily drive, the D-Max's steering is heavy and offers that sturdy feeling, but it's relatively easy to drive and see out of compared with some rivals. Handling performance is decent for this class too, and there aren't excessive turns lock-to-lock, which helps when parking. As with most dual-cab utes, the sheer length does take some getting used to, especially in tight spots – it measures just under 5.3 metres (5295mm), and that's excluding the tow ball.
The 3.0-litre engine and paired six-speed auto does okay getting up to speed, but it can seem a bit lazy, as to be expected for this class. However, on the clock we have recently timed 0-100km/h in 10.35 seconds, in the X-Runner, which doesn't compare too bad at all against the utes. Officially, the average consumption figure is 7.9L/100km for this particular spec, while we averaged around 9L/100km in a mix of city commuting and highway driving.
While it might not have changed in any significant fashion in a number of years, Isuzu is making D-Max ownership more attractive than ever before. For MY2019 Isuzu is introducing of a considerable six-year/150,000km warranty, seven-year service program, and six years worth of roadside assistance. Compared with the competitors, Isuzu now stands at the front in this department. This should go a long way to entice new buyers, and give more of a reason to existing owners to repeat purchase.
As it stands, then, Isuzu definitely isn't trying to reinvent the wheel with the 2019 D-Max. Instead, it aims to consolidate on its strengths by sticking with its heavy-duty running gear, while providing more variety and peace of mind with more accessories and afters-sales care.