Here it is, the 2019 Ford Territory. Nobody knew it was returning, but the nameplate is back. Before we let this go too far we should tell you it's not a successor to the locally-oved Ford Falcon-based Territory SUV that was sold in Australia between 2004-2016.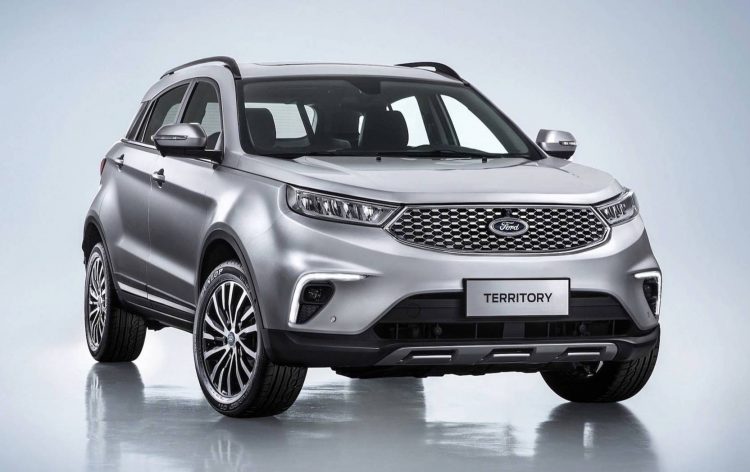 This new Territory is built for the Chinese market only and is actually a mid-size SUV that's produced in partnership with Jiangling Motors Corporation (JMC) and Ford China. It's understood it is based on the JMC Yusheng S330. Speaking about the Territory, Peter Fleet, CEO of Ford China, said:
"The Territory is a breakthrough for Ford in China in terms of our ability to successfully compete with Chinese automakers for millions of customers that we do not currently serve. Territory is a key proof point for how we will grow in China. It will be affordable for young families and new buyers across China, not just the coastal mega-cities."
Taking a look at the design, you can see some similarities with the JMC Yusheng S330, which also shares underpinnings with that famous Landwind X7 Range Rover Evoque ripoff. At the front is a modern and premium-look grille with angular LED headlights, while the rear tapers up to provide a sporty coupe-like profile.
Under the bonnet, customers will be offered three different powertrain options, including a "fuel-efficient" petrol engine, to a 48V mild-hybrid setup with Miller Cycle technology, as well as a plug-in hybrid arriving in 2019. More specific figures haven't been mentioned.
Some of the technologies that are packed inside range from a Mandarin-compatible voice command system, Co-Pilot360 driver assistance systems, adaptive cruise control, and FordPass Connect with an embedded modem. There's also a large touch-screen media interface for the dash.
The 2019 Ford Territory will go on sale in China in September. It's going to be one of more than 50 new vehicles to launch in China by 2025.