Some images of the 2019 Audi TT facelift have surfaced online, shortly after Audi previewed the new model on its Facebook page. It looks like the sports car is in for a design update inside and out.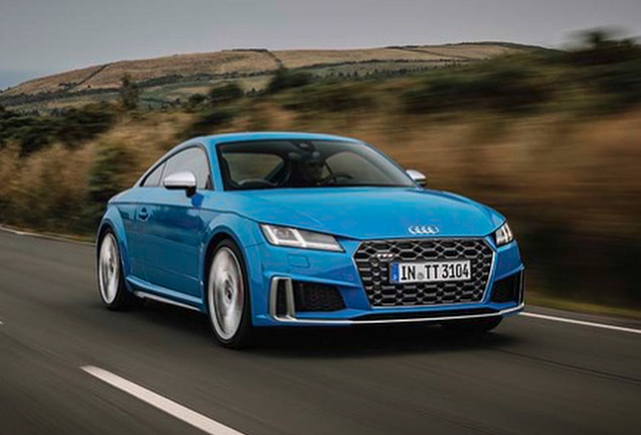 The images appeared on Instagram page tts_freunde.de, and they show the exterior of the new model in full, albeit in TTS trim. We also get a glimpse of the interior in TTS form, and it looks like the cool turbine-style climate vents will remain, although there appears to be more brushed aluminium-style highlights around the place.
At the front the 2019 TT looks like it will get a redesigned front bumper bar with grey-highlighted corner intakes, with a fresh grille insert that uses a new mesh pattern. Around at the back the grey highlights extend to the lower diffuser area, at least on the TTS, while some neat little vents are embedded like dimples into the rear bar. The taillights are also new and recessed into the bodywork.
No hard facts about the 2019 facelift have been confirmed just yet. Audi has released a handful of teaser images onto its Facebook page, but even there details are thin. Audi says it is "raising the ante" with the new model, and that the TT, like the Isle of Man TT, is worthy of the label "legendary".
As far as powertrains go, the current crop of 2.0-litre and 2.5-litre turbo units are likely to carry across with very little or no changes. The current TTS is powered by a 2.0-litre turbo that produces 210kW, just like in the VW Golf R that uses the same engine, while the barking TT RS model's 2.5-litre turbo five-cylinder develops an impressive 294W.
We'd anticipate some under-the-skin technology updates more than anything else, with improved connectivity and added safety tech. We probably won't have to wait long for the full reveal now that the cat is out of the bag. Stay tuned.