BMW is reportedly planning a high performance version of the i8 hybrid super sports car, which could be released as soon as 2016 to help celebrate the company's 100th birthday.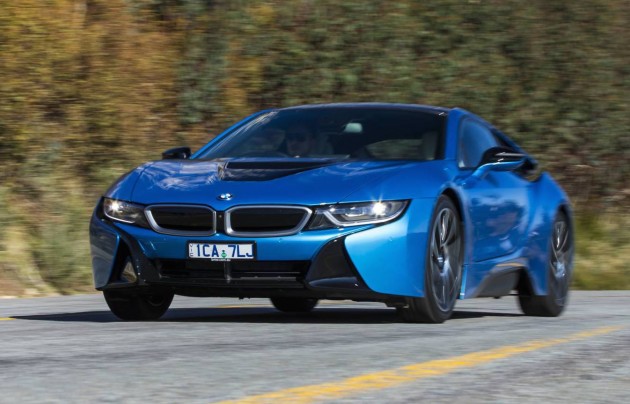 An Auto Express report says an insider has confirmed development is underway on a more potent version of the already-quick i8, with speak of the 0-100km/h time dropping from the current 4.4 seconds to under 4.0 seconds.
The current i8 is equipped with a 1.5-litre three-cylinder turbocharged engine mated with an electric motor, offering a combined output of 258kW and 570Nm. To achieve the extra power the engine could be replaced by a larger unit.
BMW is apparently experimenting with a new 2.0-litre four-cylinder turbo combination with a power figure above 225kW. This means the overall package could provide a combined output of more than 336kW.
It's understood the i8's carbon fibre structure can handle a lot more power while retaining a low kerb weight of just 1485kg. To keep the weight down and compensate for the larger engine, it is believed the body panels will be colourless carbon fibre and the interior will be stripped out to a two-seat layout only.
Unfortunately, the hotter i8 isn't set to come with an M badge as previously speculated. BMW has said that its 'i' and 'M' sub-brands will never mix. If all this news turns out to be true though, BMW might make some revisions to the handling and styling to compliment the added power, just like an M car anyway. Let's wait and see.