Production of the new, 2018 Volvo XC60 has commenced, with the first customer order rolling off the line at the company's Torslanda facility in Sweden this week.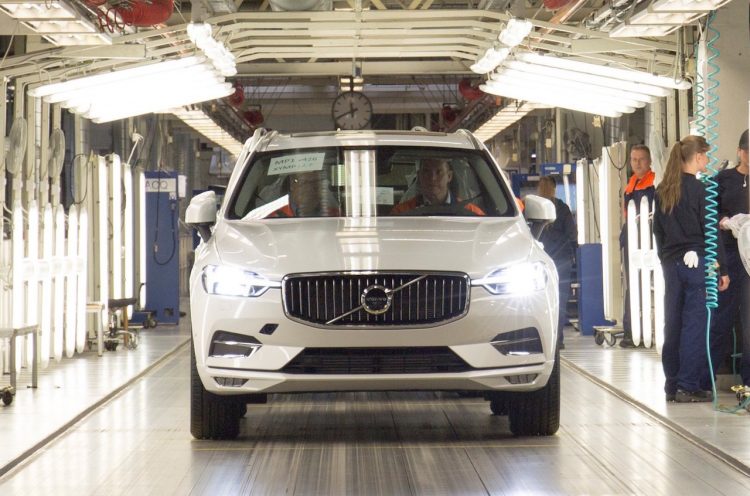 The new XC60 is an all-new model, despite looking pretty similar in some areas as the outgoing version. It rides atop Volvo's latest SPA platform that's also shared with the new XC90, and S90/V90 models.
In its nine-year lifespan, the XC60 has enjoyed immense success, especially in Europe where it has entrenched itself as the best-selling premium mid-size SUV. Almost a million units have been sold globally. The nameplate represents around 30 per cent of Volvo's total global sales, Volvo says.
On home soil in Australia, the current XC60 is easily the best-selling Volvo model. Last year the company sold 2134 examples, bettering the V40 (1129), and XC90 (1486) by quite a margin.
The new model is expected to continue the success in Australia and abroad thanks to plenty of new technologies, including an advanced hybrid option that develops up to 300kW, making it one of the most powerful SUVs in the class. Acceleration from 0-100km/h can be taken care of in just 5.3 seconds.
Customer deliveries are only commencing now in some parts of the world, with this first example being a T5 Inscription AWD variant, in Crystal White. Magnus Nilsson, vice president of the Torslanda plant, said:
"This is a proud day for everyone at the plant. We have worked hard in recent weeks and months to prepare Torslanda for this latest new Volvo model, and now we are ready to start delivering new XC60s to customers."
Australian deliveries are set to begin in the later stages of this year, with prices expected to be announced soon.