Toyota Australia announced a string of updates for the HiLux range last September, boosting value for money, while streamlining the lineup. There's still a whopping 31 different variants on sale, in a multitude of body styles and trim levels, however, the V6 petrol has been dropped from the range due to low demand.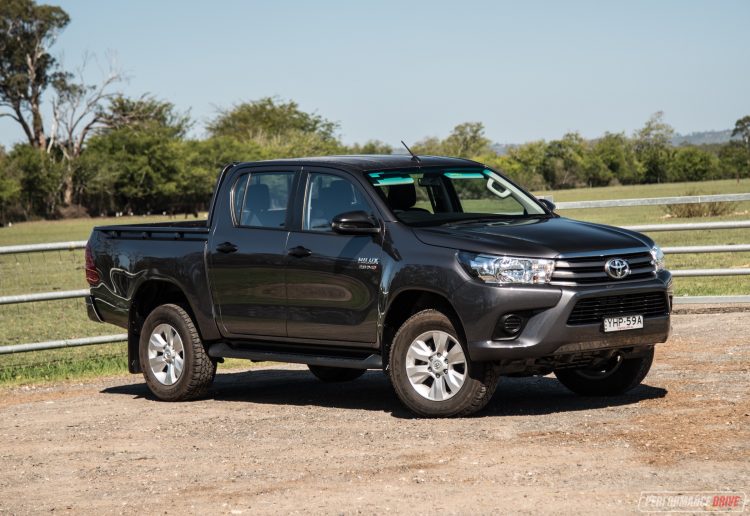 While the removal of the V6 option might bring tears to us performance car fans, the consumers, the people actually buying these vehicles, have been showing little interest. Toyota Australia says the V6 option was making up less than 0.5 per cent of orders. Around 10 new combinations were introduced with the facelift though, but 10 were also dropped.
Here we're testing one of the most popular options; the Toyota HiLux SR 4×4 in double-cab style. The SR could be seen as the perfect proposition for working-class families, as it promises a decent level of comfort and convenience inside, with a robust and rugged exterior that's ready for anything. Prices start at $48,560 for the regular SR auto, or $46,560 for the manual. The SR+ pack, as tested, requires an additional $2000. (All excluding on-road costs.)
2018 Toyota HiLux SR – THE SPECS
Engine: 2.8-litre turbo-diesel four-cylinder
Output: 130kW@3400rpm / 450Nm@1600-2400rpm
Transmission: Six-speed auto
Drive type: Rear-wheel drive, rear diff lock
Wheels: F & R: 17×7.5 steel, 265/65
ANCAP: Five stars (scored 34.45 out of 37)
Tare weight: 2050kg
Power-to-weight: 15.76:1 (kg:kW)
Official fuel economy: 8.5L/100km
Economy during test: 10L/100km
Fuel capacity/Type: 80L/Diesel
Power efficiency: 15.29kW:L/100km
0-60km/h: 4.86 seconds*
0-100km/h: 11.76 seconds*
60-110km/h: 8.92 seconds*
1/8 mile: 11.64 seconds at 99.9km/h*
1/4 mile: 18.68 seconds at 122.1km/h*
Max acceleration: 0.847g
100-0km/h braking: 3.36 seconds at 43.02 metres*
Max deceleration: -1.043g
Decibel at idle: 54*
Peak decibel at 60-100km/h: 83*
Priced from: $48,560 ($50,560 with SR+ pack)
* Figures as tested by PerformanceDrive on the day. Factory claims may be different

2018 Toyota HiLux SR – THE PACKAGE
Ordinarily, the SR comes with 17-inch steel wheels but this vehicle shows off the optional alloy items. The alloy wheel option is tied in with a new package announced for the 2018 facelift, called the SR+, which brings in sat-nav as standard as well. These items are usually reserved for the top SR5 only.
Sticking with the steel wheels is the ideal approach though if you're planning on using the HiLux as a proper workhorse or to do serious off-roading, as the wheel offset makes it difficult to scratch the rim. And being black steel, who cares if you do scratch them.
For 2018, the SR also gets easy-clean PVC flooring rather than the carpet presented in the 2017 version. Toyota says this switch was a direct result of feedback from its customers. Toyota usually does very well in the department of ruggedness and dependability. And the same can definitely be said here. Not only is the floor made from PVC (technical term for plastic-based polyvinyl chloride), the factory rubber floor mats are thick and durable. The interior really is the perfect environment for those who are regularly in contact with dirt and mud and other messy stuff.
That's not to say the entire SR cabin is agricultural-spec. From the waist up the cabin is very civilised, with splashes of comfort and convenience around the place. For the seats you get a tough yet fashionable cloth trim with reasonably supportive side bolsters, while the dash is pretty much identical to the dash in the flagship SR5.
Tunes are played through a six-speaker sound system via a 7.0-inch touch-screen media interface, also seen in the SR5. Bluetooth connection with music streaming, as well as aux-in and USB support is also provided, along with internet capability with paired phones. Another LCD display is presented in front of the driver in the SR5, measuring 4.2 inches, but this SR makes do with a basic low-res display for driving information.
Cabin ergonomics are pretty good for the ute class, although there are some rivals that offer a better and more natural driving position in our opinion. The placement of controls is perfect though, with no drastic stretching or awkward movements needed to access any of the storage solutions or functions. You can store you phone and valuables in the large centre console box, with twin cupholders in the front (and an additional pull-out one in the passenger side dash), with a large tray for other items in front of the gear shifter.
In the back, the wide bench seat is slightly titled back for a more comfortable position, with a flip-down armrest featuring two more cupholders from the middle seat. There are no rear climate vents in the back of the console, but the airy environment does make it feel relaxed, with decent air flow from the front. Looking down below you'll see the full-width thick rubber mat, which we recommend you bargain for at the dealer (if it's not already thrown in).

2018 Toyota HiLux SR – THE DRIVE
You won't be getting many complaints from the driver in the SR. That car-like cabin (from the waist up) makes it feel like you're driving a regular car. Visibility is great through all main views, with a clear perched-up view over the front end. There's no problem viewing around the A-pillars either, and although the side mirrors are pretty large, they are positioned lower down and are smaller than the ones on some utes.
We really like the latest 2.8-litre turbo-diesel engine. Yes, it is a bit slow propelling Toyota's big vehicles, such as the Prado, Fortuner and HiLux, but the engine itself is one of the most refined of the class in our opinion. Out on the highway you can barely hear it as it purrs along. The six-speed auto seems perfectly matched to maximise the engine's outputs, which really helps in maintaining smoothness and mostly effortless progression.
As for the dreaded performance. Yes, it is a bit slow. We clocked 0-100km/h in 11.76 seconds in this SR, which is a smidge quicker than the SR5 time we achieved last year (12.33 seconds). This is probably down to the weight. Strangely, the SR's tare weight is listed at 2050kg while the SR5 auto is listed at 2005kg. However, we can't see how this is correct given the SR5 features leather and power adjustable front seats and other luxuries that would no doubt weigh down the vehicle.
Around traffic and in the suburbs the lacklustre performance is no issue. It'll gather speed and keep up momentum with the traffic, and you can overtake without too much struggle. It's the top end that's lacking the most, resulting in delayed overtaking at speeds above 80-90km/h. Through roundabouts it'll remain in third gear and surge back up to speed quite quickly. Getting off the line at the lights is also nifty, with its high-torque gearing providing plenty of immediate shove, and it doesn't seem hindered even if you're hauling a full cabin of people.
You can use the HiLux as a proper family vehicle thanks to its sturdy handling. It doesn't feel like a truck. Along a winding road there's very little body roll, with reasonably quick (for a ute) steering making tight corners easy to navigate. Making fine adjustments is also easy thanks to the car-like steering, with no excessive play on centre like some utes. About the only area that lets it down is the firm and jiggly leaf-spring rear suspension. Without a load in the back, the HiLux SR can get fidgety over corrugated roads. This is more pronounced for rear passengers, obviously.
Off the road the HiLux is one of the best performing utes on the market. Ground clearance is measured at an impressive 279mm, which is easily high enough to clear the usual objects you'd expect to find on the work site, or to hop up a gutter. The big 265/65 tyres also help here. Serious off-road enthusiasts will know to let a bit of air out of the tyres to explore the full capability. An approach angle of 31 degrees and departure angle of 26 degrees is more than enough for most off-road adventures. If you're still worried, the SR comes with a rear differential lock as standard. It can be activated at a touch of a button on the dash.
2018 Toyota HiLux SR – THE VIDEO
2017 HiLux SR5 shown in video, 2018 SR performance times shown in table above
2018 Toyota HiLux SR – THE VERDICT
It's easy to see how and why the HiLux is not only the best-selling ute in Australia, but also the best-selling passenger vehicle. All-round ability is its main forte, with excellent cruising on the highway and brilliant off-road ruggedness. And thanks to some tweaks influenced by customer feedback for the 2018 model, the range is now more versatile than ever, and thus suitable for a wider range of the buying public.
Going for the SR does get you a more robust and durable specification, but you do miss out on some handy features such as a lockable tailgate, LED headlights, and proximity key with push-button start. However, if pure dependability is first on your criteria, the SR is the way to go.
PROS:
– Smooth and refined diesel engine
– Car-like handling
– Good visibility
– New PVC flooring for SR makes it very durable
– Toyota's unbeaten reliability

CONS:
– Jiggly rear suspension when unladen
– A bit slow, even compared with other utes
As always, if you're thinking about buying a new car don't forget to click here to speak with our car buying specialists.