An image of the 2018 Suzuki Swift Sport has surfaced online, revealing the design of the next-gen sporty city car for the very first time.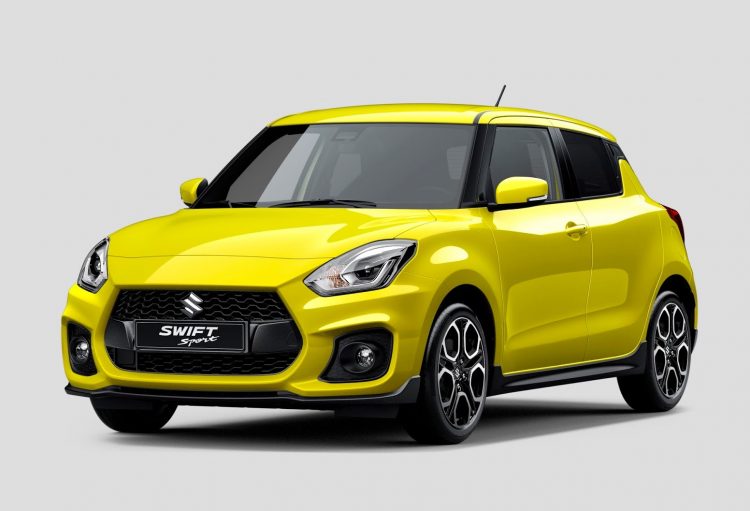 There's been plenty of anticipation surrounding the new Sport model, perhaps because the outgoing version is so highly celebrated. Suzuki will be wanting to carry on its reputation with the next model.
So far only this image has been revealed – intentionally or not we don't know. But by the looks of it the new Sport will showcase a neat and tidy yet muscly little aero kit, featuring darkened skirting around the bottom of the body.
At the front is a large open-mouth grille and intake area with black meshing in the background, with two fog light clusters in the corners giving it a strong first-impression impact. There's also some five-hole alloy wheels which kind of remind us of the original Lamborghini Gallardo wheels.
Unfortunately, we don't have any juicy powertrain details to confirm for you. However, a number of reputable reports indicate it will come with Suzuki's latest 1.4-litre turbocharged petrol engine.
In the Vitara S-Turbo the unit produces 103kW and 220Nm. If this is carried across the new Swift Sport should be a fun little car. There has been talk of output being lifted a little though, which could turn the humble city car into a much more serious hot hatch contender.
The last we heard Suzuki is aiming for a better power-to-weight ratio than the VW Golf GTI. This could mean the Sport will weigh under 900kg. We'll have to await official confirmation before getting too excited. All will probably be revealed very soon. Stay tuned.