The 2018 Renault Megane R.S. has flashed its buxom derriere in fiery orange for the first time, with this image leaked ahead of its official expected soon.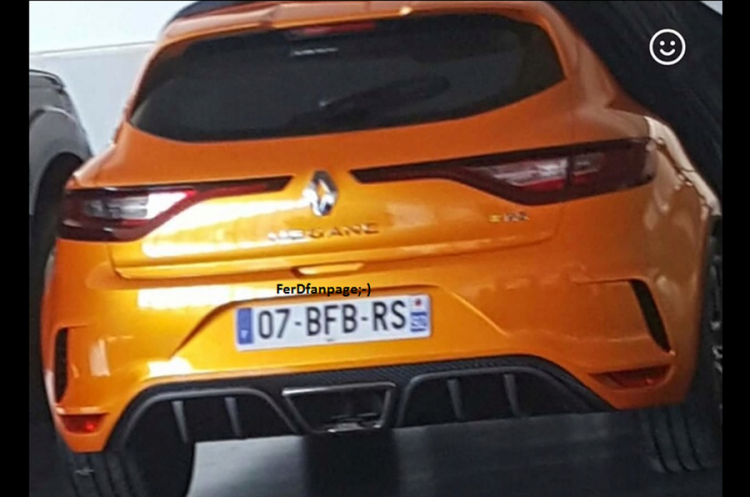 Presently, the 2017 Renault Megane GT is the hottest car in the lineup, but that is set to change before the end of this month, with the full fat Renault Sport version tipped to be unveiled on the 26th of May.
This picture, surfacing on Twitter, shows a new fiery orange colour as well as a number of body changes compared with the GT. For example, there is a more hardcore rooftop spoiler, vents on the guards and a diffuser. A large central exhaust points to a beefier powertrain, while the wheels are significantly wider with large black alloys.
Mystery surrounds exactly what will power the new R.S. model, with either the Alpine A110's 1.8-litre turbo or a new 2.0-litre mooted as possibilities. It is likely to keep its front-wheel drive layout as the Megane R.S. has long fought for the front-wheel drive record around the Nurburgring Nordschleife. In recent times, that title has been wrested from it by Volkswagen, SEAT and most recently Honda (for the second time). It's a safe bet that Renault Sport will be vying for this title again.
Gearshift options are tipped to include a six-speed manual or seven-speed DCT, for the first time. This is in contrast to the Ford Focus RS, Honda Civic Type R and upcoming Hyundai i30 N which are all exclusively manual affairs to appease driving purists.
The new car will enter a more competitive market than ever before, with traditional rivals Golf R, Focus RS and Subaru WRX STI joined by a revitalised Honda Civic Type R and Hyundai's i30 N. We will bring you more about this exciting car as it happens.