Welcome to the top-of-the-range Mazda BT-50 GT. When it comes to diesel dual-cab utes, the BT-50 is one of the strongest competitors in terms of engine size and power.
You're looking at the likes of the Toyota HiLux SR5, Nissan Navara ST-X, and the Mitsubishi Triton as direct rivals. All of these are powered by smaller-capacity four-cylinder engines, compared with the BT-50's 3.2-litre turbo-diesel five-cylinder. Outputs remain at 147kW and 470Nm for the recently-announced 2018 model, but they are still near the top of the class.
Prices for this GT automatic kick off from $56,990, which places it directly in line with the HiLux SR5 auto (from $56,440), but slightly above the Navara ST-X auto (from $54,490) and Triton Exceed auto (from $48,990).
2018 Mazda BT-50 GT – THE SPECS
Engine: 3.2-litre turbo-diesel five-cylinder
Output: 147kW@3000rpm / 470Nm@1750-2500rpm
Transmission: Six-speed auto
Drive type: Part-time RWD/4WD, locking rear diff
Wheels: F & R: 17×8.0, 265/65
ANCAP: Five stars (scored 35.72 out of 37)
Kerb weight: 2118kg
Power-to-weight: 14.40:1 (kg:kW)
Official fuel economy: 10L/100km
Economy during test: 10.7L/100km
Fuel capacity/Type: 80L/Diesel
Power efficiency: 14.7kW:L/100km
0-60km/h: 4.53 seconds*
0-100km/h: 10.75 (11.59 in 2WD mode) seconds*
60-110km/h: 8.24 seconds*
1/8 mile: 11.27 seconds at 103.3km/h*
1/4 mile: 17.52 seconds at 126.1km/h*
Max acceleration: 0.673g
100-0km/h braking: 3.59 seconds at 45.22 metres*
Max deceleration: -0.987g
Decibel at idle: 52*
Peak decibel at 60-100km/h: 82*
Priced from: $56,990
* Figures as tested by PerformanceDrive on the day. Factory claims may be different

2018 Mazda BT-50 GT – THE PACKAGE
New for the 2018 model Mazda has installed Apple CarPlay and Android Auto for the 8.0-inch Alpine touch-screen media interface. It's a shame Mazda doesn't provide its excellent MZD Connect system for the BT-50, but we guess it might not be rugged enough to suit this market segment. But this means you're left with a rather basic system here, with tiny menu buttons across the bottom and pretty average functionality.
Going for the top GT variant gets you some power-adjustable front seats covered in black leather, privacy glass, and a tub-liner for the tray complete with an auxiliary outlet and light. The tailgate is also tied in with the central locking system. All other luxuries and conveniences are available in the one-rung-down XTR. Things such as dual-zone climate, sat-nav, a rear-view camera, tubular side steps, and 17-inch alloy wheels carry over.
It doesn't exactly scream out luxury inside. It is very practical, though. None of the controls are hidden or confusing, and most items are placed where you'd expect them to be placed. There's also plenty of storage options around the place, including a big tray at the top of the dash with its own USB port, dual cup holders in the centre console, and bottle holders in the doors.
Seating space is plentiful, with good headroom and space to move about in the front, partly thanks to a clean console layout and forward-set dash. Getting in and out is easy thanks to wide door openings, so long as you're used to stepping up in these heavy-duty 4x4s. Rear passengers are well looked after for space as well, with excellent width for a dual-cab. Rear climate vents are an unfortunate omission, but there is a 12V power socket, flip-down centre arm rest and cup holders, and bottle holders in the doors. The seat back is reclined slightly, unlike in some rivals, helping to assist long distance comfort.
As for the most important part, the tray. It is one of the larger tray areas in the class, with a box floor length of 1549mm and width of 1560mm, meaning it's actually wider than it is long. It's also 513mm deep. A quick calculation provides a diagonal length of  2198mm, which is enough to slot in a Yamaha YZ450F (length: 2184mm) dirt bike, for example. The box floor height from the ground is 841mm, and it offers a payload capacity of 1039kg in auto form and 1053kg in manual form.
If the tray isn't large enough you can also tow a trailer of up to 3500kg with assisted braking. The gross combined mass allowed is 6000kg. With a kerb weight of 2161kg (according to Mazda's official press sheet, or 2118kg according to RedBook), this leaves 3839kg for towing, cargo in the tray and occupants and so on.

2018 Mazda BT-50 GT – THE DRIVE
It's amazing how car manufacturers are creating such heavy-duty 4×4 vehicles that feel and drive just like a regular car. The BT-50 is one of the most car-like drives in the segment. But we think it's partly due to the car-like dash and cabin layout. Even the steering wheel seems like it wouldn't seem too out of place in a normal passenger car or at least a crossover.
Visibility is excellent through all of the main vantage points, and thanks to the 237mm of ground clearance you can definitely peer down over your motoring peers. The steering also feels light, with a conventional ratio helping with agility in tighter inner-city conditions. Unlike some utes that use exhaustive lock-to-lock steering ratios, the BT-50's setup is very similar to a normal passenger car.
Where things start to go a bit truck-like is with the powertrain. And this is probably a good thing otherwise you'd just swear you were in a crossover. The 3.2-litre turbo-diesel five-cylinder engine produces a typical gruff, rough and cranky personality when cold and at low revs, but with ample torque for serious duties. Being a five-cylinder also means the soundtrack is slightly unusual and somewhat interesting. It produces a faint roar and howl at some parts of the rev range.
We love this engine in the BT-50's donor vehicle, the Ford Ranger, so there are no major complaints here for the BT-50. It feels powerful, with immediate response off the mark. In fact, the response is so sudden it's easy to accidentally chirp the wheels on takeoff. The unit seems free-revving, too. Peak power of 147kW is achieved with just 3000rpm, and the peak torque of 470Nm is available from a low 1750rpm and held until 2500rpm.
Despite it's friendly design and car-like character, the BT-50 really is a heavy-duty beast underneath. We had a very difficult time trying to get this thing stuck in off-road conditions. We think the forceful powertrain definitely helps when ascending steep slow climbs in low range, while the ground clearance, and 28.2-degree approach and 26.4-degree departure angles, provide plenty of clearance over obstacles.
We put this vehicle to one of the toughest off-road tests we've ever undertaken. We even took on sections that no sane owner would dare attempt. But amazingly, our friends in recovery vehicles (heavily-modified Nissan Patrols) were not required, not even once.
The only time the BT-50 stopped was when we needed to stack up a few rocks to actually make a track due to severely-weathered terrain. In our opinion, half of the terrain conquered wouldn't have been possible if it weren't for the standard rear diff lock.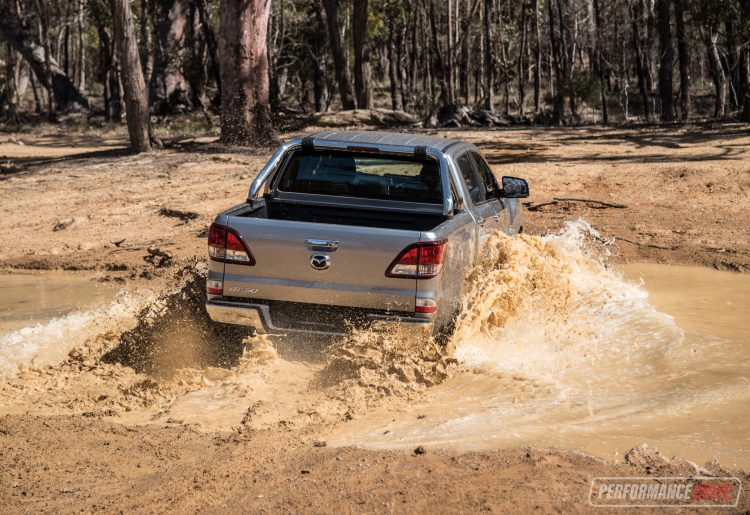 If you are planning serious off-road expeditions, we would recommend getting a factory or aftermarket bull bar fitted. This is simply because the regular front bumper bar features shiny body-coloured paint all the way down to the very edge. On some rivals, this lower section of the bumper bars is split and features black 'scratch-resistant' plastic sections. But not here.
However, the standard tubular side steps come in handy as they are made from sturdy steel. Although not as rigid as full-on rock sliders, they are some of the toughest standard steps we've seen in this market. You can rest on them and they don't seem to bend or dent.

2018 Mazda BT-50 GT – THE VIDEO
2018 Mazda BT-50 GT – THE VERDICT
It's one of many attractive options in the increasingly-popular dual-cab ute segment. Areas that should attract buyers to the BT-50 GT include the powerful engine, excellent off-road performance, practical cabin, and sheer size (tray and interior).
Areas that might take some consideration include the lack of advanced driving tech (which many rivals miss as well) such as adaptive cruise control. The basic touch-screen media interface is also a bit behind some rivals, and the exterior design might not fulfil the 'rough and rugged' theme that some might be after in this class.
PROS:
– Plenty of grunt from 3.2 engine
– Practical cabin
– Big tray area (with light and 12V socket in GT form)
– 5-year warranty
– Max 3500kg towing
– Great off-road performance, rear diff lock helps

CONS:
– Touch-screen interface falls behind rivals
– Misses out on adaptive cruise control, AEB
– Exterior design not tough enough?
As always, if you're thinking about buying a new car don't forget to click here to speak with our car buying specialists.