Ford has confirmed the official specifications for the 2015 Ford Mustang, which will go on sale in Australia next year. Up until now the specs were only an estimate.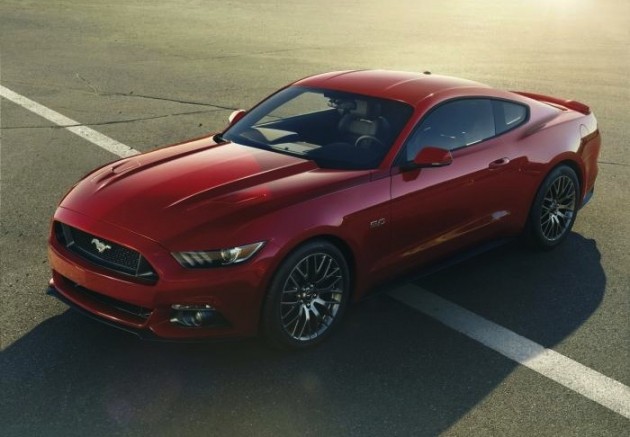 So, to kick off the range the 3.7-litre V6, which won't join the Aussie lineup, produces 223kW of power and 379Nm of torque. This is slightly less powerful than the predecessor, but Ford says the power-to-weight ratio is better. It'll be available with a six-speed manual or auto.
Next up, the new 2.3-litre EcoBoost turbo four-cylinder. It's been specifically developed for the Mustang, Ford says, with a special intake manifold and turbocharger housing optimised for better breathing.
The EcoBoost unit, which will become the entry-level model in Australia, produces 231kW of power and 433Nm of torque. It too will be available with a manual or auto.
Economy figures are yet to be mentioned, however, to maximise efficiency the engine cylinder head features an integrated exhaust manifold and a twin-scroll turbo. Scott Makowski, EcoBoost powertrain engineering manager, said,
"This EcoBoost engine delivers the healthy output Mustang drivers expect, regardless of the car's speed. It delivers where a Mustang driver expects it to – with a broad, flat torque curve and great driveability under any conditions."
Lastly, for the pure muscle car fans, the range-topping Mustang GT V8. It's a 5.0-litre naturally aspirated unit that produces 324kW of power and an impressive – for a non-supercharged 5.0 – 541Nm of torque. The engine uses revised cams, stiffer valve springs, larger valves, and sinter forged conrods compared with the outgoing model.
Whether you choose the manual or automatic, Ford is making sure the experience is exciting. The manual shifter has been repositioned so it's closer to the driver, while the auto comes with paddle shifters and rev-matching on the downchanges.
As a bonus, Ford is also going to offer an optional Performance Pack for the EcoBoost and V8 models. It includes retuned sports suspension, a thicker rear sway bar, a K-brace for the strut towers, recalibrated stability and traction control, and a beefier cooling system for track durability.
The final drive ratio is also changed to 3.55:1 for the EcoBoost and it's equipped with four-piston, 352mm/330mm performance brakes, while the GT V8 gets a 3.73:1 Torsen limited-slip differential and Brembo six-piston 380mm/330mm brakes.
Ford Australia is yet to confirm details for the local lineup so these figures could change slightly. It will arrive during the middle of 2015.