A design sketch of the upcoming Audi A6, A7 and A8 front ends has surfaced online, giving us a potential first-look at the sharpened up luxury models.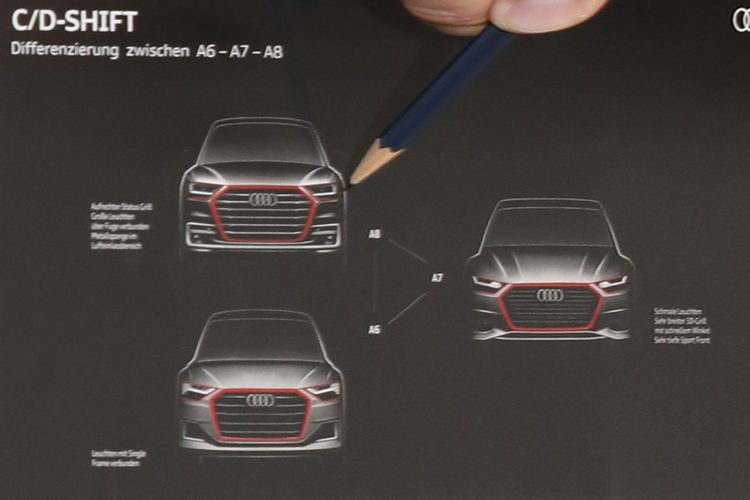 The sketch comes from Audi design boss Marc Lichte who recently undertook an interview with French publication L'argus. He pointed out some of the main design differences from the current respective models.
As you can see, the new models are set to receive a sharpened front end tweak with massive new hexagonal grilles and more intricate LED headlights. There are also plenty of horizontal lines going on, emphasising a wide and low stance.
The A8 flagship looks like it will get a slightly more imposing arrangement, suitably, with large horizontal grille tiers and a more sophisticated lower section with corner fog light clusters. The A7 uses a unique bonnet compared with the A6 brother.
It's understood the A8 will be the first to arrive, and it's set to be the first Audi production vehicle to be designed under the direction of Marc Lichte. Underneath the A8 is said to be a switch to the Volkswagen Group MLB Evo platform which should help to reduce weight and improve driving dynamics and efficiency.
There's speak of the new 6.0-litre twin-turbo W12 becoming available for the top variant, which should make for a very exciting and extremely fast limousine. The engine debuted in the Bentley Bentayga, where it produces 447kW and 900Nm.
As for the A6 and A7, they are also set to switch to the MLB Evo platform. This should help shed some weight and provide benefits in efficiency and performance. Engine options are likely to be very similar to the current lineup, although some changes are expected including the introduction of hybrid technology.