Apollo Automobiles, spawned from the now defunct Gumpert company, is planning a new hypercar – called the Insensa Emozione – and has sent out teasers to get us all excited. And by the looks of it, it's going to be a very serious track-ready model like the old Gumpert Apollo.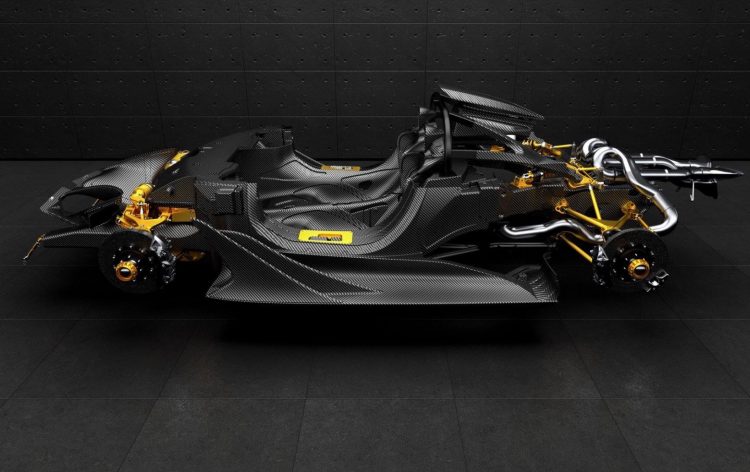 The teaser, which was posted up on Apollo's Facebook page, shows an intricately detailed carbon fibre chassis. Apollo says this platform provides "maximum torsional rigidity" and safety, while supporting an aerodynamically efficient shape.
As you can see the cabin will offer seating for two in some serious racing-ready bucket seats and harnesses, with no space wasted on creature comfort areas or storage or anything like that. The seating looks positioned just forward of the centre of the car for optimum weight distribution.
In the back is some detail of the exquisite engine. It looks to be a naturally aspirated V12 unit, with a clear view of the chrome exhaust manifold entwining its way over the engine. According to reports the engine will produce around 800hp (597kW).
In other areas it looks like the Apollo Intensa Emozione will sport racing carbon brakes mounted on centre-lock hubs, with pushrod-style suspension supported by gold-coloured cross members and suspension arms front and rear.
Details on the body design are yet to be confirmed, but from a teaser video that has also been sent out we can suggest the body will be more functional than cosmetic. It'll show off huge intakes and special vents in every corner, with a big rear wing and very low front splitter system.
Apollo is planning to reveal all on October 24 next week, including details on production numbers and pricing. In the meantime, check out the teaser video below.