When it comes to small soft roaders, Subaru knows what it feels like to sit comfortably on top of the market. In 2012, the XV was the second most popular small SUV. Now, struggling to keep up with new models on the market, the XV has been given a third minor update, in addition to a mid-model update in 2015.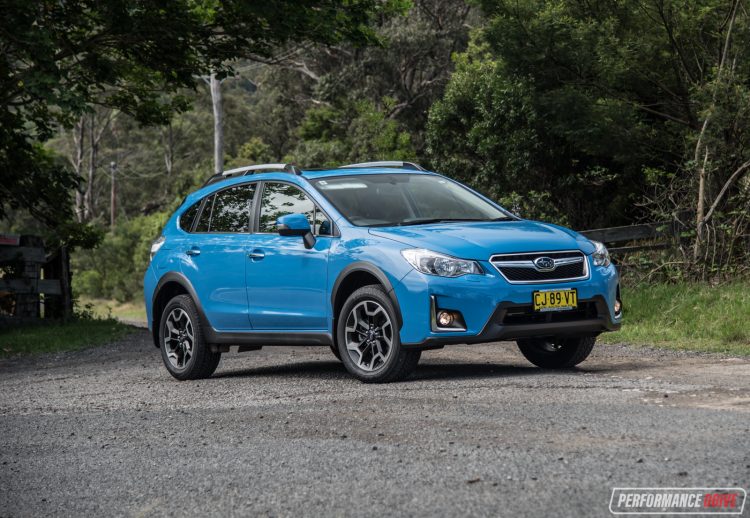 If you haven't already noticed, the XV is predominantly a raised Subaru Impreza. This provides sufficient height to enable mild off-road capability for your typical Aussie camping trip, or dirt road adventure.
In its most basic form, you have the 2.0i, then the 2.0i-L, and the top of the line 2.0i-S . Prices begin at $26,740 for the base model, and move up to $35,540 for the 2.0i-S, tested here (all prices exclude on-road costs).
2017 Subaru XV 2.0i-S – THE SPECS
Engine: 2.0-litre boxer four-cylinder
Output: 110kW@6200rpm / 196Nm@4200rpm
Transmission: CVT auto
Drive type: All-wheel drive
Wheels: F & R: 17×7.0, 225/55
ANCAP: Five stars (scored 35.33 out of 37)
Tare weight: 1410kg
Power-to-weight: 12.81:1 (kg:kW)
Official fuel economy: 7L/100km
Economy during test: 7.4L/100km
Fuel capacity/Type: 91L/60 RON
Power efficiency: 15.71kW:L/100km
0-60km/h: 5.57 seconds*
0-100km/h: 11.61 seconds*
1/8 mile: 12.05 seconds at 102.6km/h*
1/4 mile: 18.59 seconds at 125.3km/h*
100-0km/h braking: 3.30 seconds at 40.98 metres*
Decibel at idle: 43*
Peak decibel at 60-100km/h: 79*
Priced from: $35,540
* Figures as tested by PerformanceDrive on the day. Factory claims may be different

2017 Subaru XV 2.0i-S – THE PACKAGE
Going by the feature list, the top of the range Subaru XV misses out on some of the new-to-market technologies, like radar cruise control, city emergency braking, and even parking sensors; but the list is sufficiently long for the price tag. You get the necessities, like dual-zone climate control, a media screen with USB and Bluetooth connectivity, extra rear USB power outlets, 17-inch alloy wheels, reversing camera, cruise control, proximity locking/unlocking, seven airbags, and that famous Subaru symmetrical all-wheel-drive system.
Interior-wise, the Subaru XV could be best described as 'non-aggressive' for comfort and style. The controls are easy to learn, with no nasty surprises, but not with any wow-factor either. Most media controls are commanded by the 7.0-inch touch-screen, which can be fiddly when driving. This can ultimately mean your eyes are taken off the road for longer than you'd rather. But, most buyers will be attracted to the simplicity of the dash layout, and information available on the instrument cluster. We had a very small gripe with the increments of the air-conditioning fan speeds being too great. Also, there are no air-vents for the rear passengers.
The front seats are surprisingly comfortable and supportive on long drives – even for larger guests. If you are tall, the seats can be slid unusually far back into the rear legroom, giving you plenty of room. The 2.0i-S is equipped with leather seats and unique orange stitch detailing, and an electric sunroof for added class.
Like with most Subarus, the XV provides the most airy, least-claustrophobic feeling from inside the cabin. The design uses big windows and less metal, with thin pillars. But there is a disadvantage to this; the sun can scorch through and heat up the cabin rather quickly. It might be an idea to get some dark window tinting and slip, slop, slap in the summer (only the rear windows are tinted from factory).
For the rear passengers, space is not bad for a hatch and reasonable for a small SUV. Measuring only 310 litres, boot space seems a tad peculiar to assimilate to other vehicles on the market, as the XV's shape is not quite a hatch, and not quite an SUV like a Volkswagen Tiguan or a Suzuki Vitara. Nonetheless, if you wish to compare to the 'proper' SUVs, almost all of them have bigger luggage spaces. In fact, some hatchbacks have bigger boots, too (the Toyota Corolla measures 360 litres).

2017 Subaru XV 2.0i-S – THE DRIVE
As the variant names reveal, all XV models are equipped with the same 2.0-litre horizontally-opposed, naturally aspirated four-cylinder engine. Apologies – no turbos found here. This means we see a meagre power output of 110kW at 6200rpm and a trifling 196Nm of torque at 4200rpm. Measurements aside, this equates to a vehicle that struggles to keep up with everyday demands, like overtaking and merging onto freeways.
The constantly variable automatic transmission doesn't seem to help in this area either. We find that on take-off, using the throttle at a level-headed rate makes no difference to acceleration speed, compared to pressing the accelerator flat to the floor. It seems like the CVT needs a lower gear ratio to take off in order to match the low power and torque of the engine. As a result, we clocked a very poor 0-100km/h time of 11.61 seconds. It would be interesting to see how the manual transmission option would measure up, which is available in all variants.
Off the bitumen and onto the dirt is where the Subaru XV makes up some ground. Being essentially a raised hatchback, maybe our expectations were low; but the XV handles the off-road test unexpectedly well. It seems to bobble over all grounds, right up to what the ground clearance allows for, with minimal disturbance. The tall tyre walls on the 17-inch wheels (225/55) play a large part in its well-mannered composure. Ground clearance is generous, measuring 220mm. We never bottomed out, and we took it on some rather harsh dirt tracks. In comparison, the Suzuki Vitara clears 185mm, and the Mitsubishi ASX measures 195mm.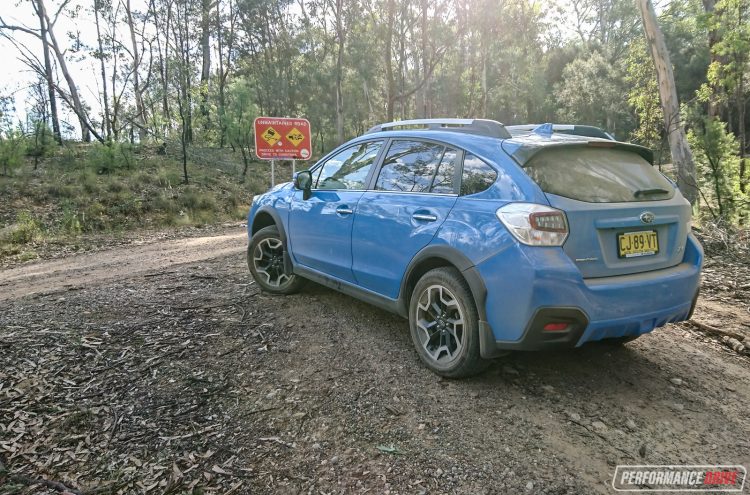 There are no driving modes to select from, apart from the usual manual gear selection mode with the paddle shifters – not that we were expecting them from a soft-roader at this level in the market. Nevertheless, as Subaru asserts itself on the forefront of traction, on and off road grip is nothing short of excellent.
Steering has a positively stiff feel when travelling at higher speeds on the freeway, and a light manoeuvrability when battling the supermarket car-park.
With the sluggish drivetrain, we found that we needed to put our foot down more than we should have needed to in order to get the job done. This meant fuel consumption figures were fairly average. Subaru has made a good attempt at making the naturally aspirated engine as fuel efficient as possible, given that it is an all-wheel-drive and it doesn't have a turbo to help move it along. We managed to get the average consumption down to 7.4L/100km by being extra frugal, but Subaru claims the average should be 7.0L/100km. Overall for the week we hovered around 8L/100km. The official average stacks up satisfactorily against the competition. However, most come with more power for similar consumption readings. With the 60-litre fuel tank, you can expect to refuel after roughly 650km.
As seen in other CVT autos like in the Toyota Corolla, we experienced one small oddity. If you approach a steep descent on the freeway while using the cruise control, the engine tends to scream right up to 6000rpm in order to help slow your speed. The trouble is, the CVT auto does not provide any back pressure to slow the car down, so the engine will just keep revving up near the redline.
If you are mindful of on-going costs, beware that servicing is required every six months instead of the usual 12 months, or 12,500km, whichever comes first.

2017 Subaru XV 2.0i-S – THE VIDEO
2017 Subaru XV 2.0i-S – THE VERDICT
The Subaru XV will appeal to the majority of drivers; drivers who are looking for reliable, fuss-free motoring. It really is one of those cars that you can jump in and drive without needing a uni degree first. And the price is well-positioned for its level of standard equipment. We must also commend the XV for being one of the originals in the crossover market, and for bringing Subaru's famous utilitarian experience to the small car world.
The ease of driving, coupled with great off-road capabilities, and superb Japanese build quality make the Subaru XV an attractive package on its own. Sitting in the fiercely competitive small SUV market though, there are some flaws that can relegate the XV to a lower rank; if you need more space in the rear and boot, or prefer more power to play with, for example, you might find others more enticing. In saying this, we are looking forward to the next-generation model. Who knows, maybe it will come with a turbo engine at last.
PROS:
– Good ride, soaks up potholes and dirt roads
– Ease of use, driving and controls
– Off-road performance (for a hatch)
– Build quality and refinement
– Available with manual transmission

CONS:
– Underpowered engine; very slow, CVT auto doesn't help
– Lacks some technologies found in rivals
– Off-road performance (for an SUV)
– 6-month service intervals
As always, if you're thinking about buying a new car don't forget to click here to speak with our car buying specialists.