Looking a buying a new compact car? Mazda Australia has just announced a string of updates for the introduction of the 2017 Mazda2 range.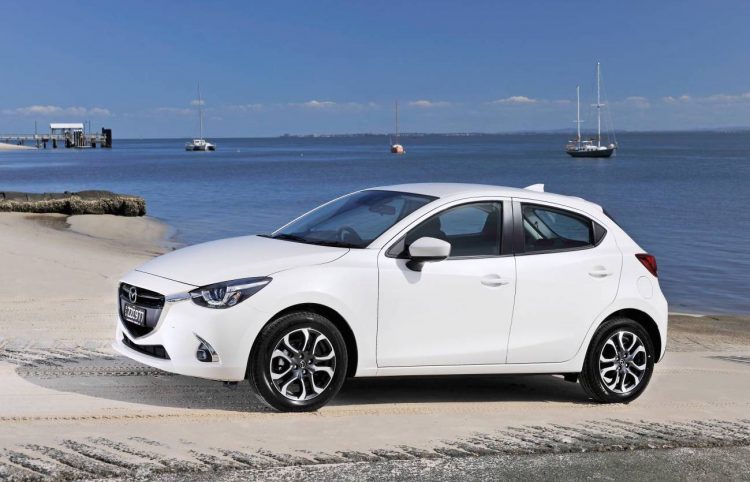 Mazda is boasting the new model as being the first car in its class to be available with blind-spot monitoring and rear cross-traffic alert. These technologies are standard on the Genki and GT variants.
The safety tech joins the already-extensive list of features designed to help keep you safe, including autonomous emergency braking (forward), standard across the range, and the same system while in reverse for all variants from the Maxx upward.
Also new for the update is the introduction of Mazda's G-Vectoring Control, which debuted on the Mazda6 last year and has since trickled down to Mazda3 and CX-5. This clever technology helps to smooth the drive experience in a number of behind-the-scenes ways.
Ride and handling have also been tinkered with, with new suspension bushings, front and rear dampers, and a retuning of the electric power steering to improve the drive manners. Some insulation improvements have been put in place around the windscreen and engine compartment for a quieter drive, too.
Lastly, some exterior revisions help to distinguish the model update, with new side mirrors incorporating indicators, while the GT variant gets a shark fin antenna, with the 16-inch alloy wheels on the Genki featuring a gunmetal colour while on the GT they are painted silver.
All models continue to be powered by a 1.5-litre four-cylinder petrol engine, producing 79kW/139Nm in the base Neo, and 81kW/141Nm in all other variants.
The new model, offered in a maximum of four variants, with hatch and sedan layouts, is on sale now from the following prices (excluding on-roads):
Hatch
2017 Mazda2 Neo Manual – $14,990
Auto – $16,990
2017 Mazda2 Maxx Manual – $17,690
Auto – $19,690
2017 Mazda2 Genki Manual – $20,690
Auto – $22,690
2017 Mazda2 GT Manual $21,680
Auto – $23,680
Sedan
2017 Mazda2 Neo Manual – $14,990
Auto – $16,990
2017 Mazda2 Maxx Manual – $17,690
Auto – $19,690
2017 Mazda2 GT Manual $21,680
Auto – $23,680