Moving house means sorting through your favourite car magazines, realising your other half owns thousands of shoes she will never wear and of course, dealing with removalists.
This time around, we wanted to make sure we moved house in style and with pace. The most logical car to match this criterion was the awfully sexy and incredibly quick Audi RS 6 Avant.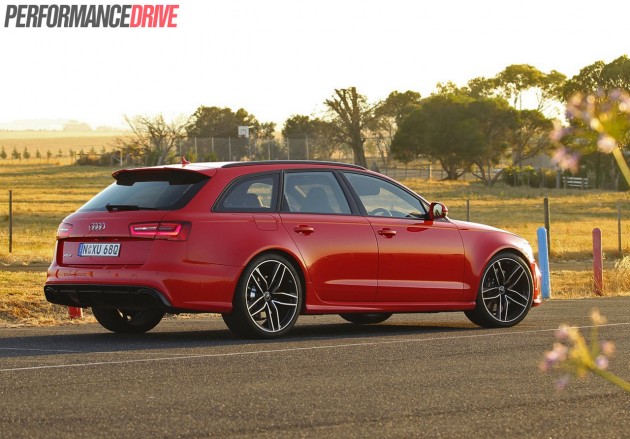 Before we get into the intricacies of trying not to damage a $225,000 'supercar' with things like chair legs, bags and cutlery, let's have a quick look at the car in question.
Audi's RS 6 Avant has matured from a thirsty twin-turbocharged V10 into a mellow twin-turbocharged V8 savant. At first, we thought that maybe Audi had gone soft on its family oriented supercar, but looks can be deceiving.
From outside, the RS 6 remains a trainspotter's wet dream. Bulging wheel arches, mammoth wheels and 'quattro' nomenclature on the grille are the only sub-four-second giveaways. It takes an eagle eye to spot the dual oval exhausts and RS 6 badges front and rear.
Based on — and only available in — A6 Avant trim, the RS 6 is solely aimed at families with sadistic speed requirements. A mammoth boot (565-litres) and plenty of front and rear legroom ensure this car is both practical and functional.
Audi has even included cylinder deactivation and automatic stop/start to reduce fuel consumption. The latter is fairly smooth and discreet, while the former is almost impossible to catch in action. This may sound like German eco-nannies taking over, but the features help reduce fuel consumption to a mind-boggling 9.8L/100km. And that's from an engine that unleashes 412kW and 700Nm.
It wouldn't be a great family car if the ride were too rough. The drive select function of the Audi MMI (media interface) allows the driver to adjust driving modes on the fly. The knob can alter the car's demeanour from pussycat to hellcat in fractions of a second.
In comfort mode, the RS 6 glides along peacefully and will gladly take on the roughest of Melbourne's roads with grace. Twist the knob around to dynamic and the ride instantly firms followed closely by an exhaust bark as the eight-speed automatic gearbox enters sport mode.
It's at this point the Audi RS 6 becomes a manic sports car with face-pulling acceleration. Step on the throttle and the induction noise takes on the persona of a highly-modified Holden VL Commodore turbo; it's spool-city all the way through to the 6700rpm redline. The only thing better than the induction noise is the ridiculous exhaust note, which can be heard from several blocks away.
Traction comes courtesy of Audi's awesome quattro all-wheel-drive system that uses a self-locking crown-gear centre differential, torque vectoring and a trick rear differential to maintain grip at all times. In fact, it's hard to find a situation where the RS 6 isn't gripping relentlessly to the road.
Steering and brake pedal feel is just as impressive as the grip. The steering wheel sits perfectly in hand and feels heavy but composed through corners. Even though the standard brakes are excellent, carbon ceramic brakes can be optioned for an additional $20,940.
While $20,490 may seem like a lot of money, carbon ceramic brakes are extremely durable and can last up to 300,000km before requiring work or replacement. They are also fade resistant, which makes them perfect for track driving or performance in extreme conditions.
There's no other way to put it, this is the performance king of practical family cars and if you need help justifying it to the Finance Minister, you simply need to mention that it's now almost $30,000 cheaper than its V10 predecessor.
We've determined that the Audi RS 6 is a bona fide road going weapon, but is it equally as good at moving house? We set out to see how much gear we could cram into the back to make the move between two Melbourne cities.
We started off by dropping the rear seats. Using a lever atop each of the seatbacks, the seats drop almost flat. For extra space, we also dismantled the heavy and fiddly cargo-blind and set it to the side.
Another item we had to dismantle was an adjustable boot partition that is used to securely divide sections of the boot. With seats down and cargo blinds and dividers out of the way, boot volume almost triples from 565 litres to 1680 litres.
Large items were easy to load courtesy of a low bootline and a flat inline to the boot floor. Audi has even taken the extra step of a chrome boot liner to conceal scuffs and scratches, which often show up easily on dark-coloured plastic.
The electric boot open/close function was a godsend when carrying bags or things that were hard to place on the ground and pick up again. Using either the key or boot release button, the boot pops open and electrically rises (the height can be pre-set using the MMI screen). It works the same way in reverse using either the key or boot button to close.
We were surprised with how much we could cram into the RS 6 cargo area. We used rubbish bags full of clothes to pad spaces between hard objects and the luscious interior — a great idea if you're ever considering using a car to move house.
The Audi RS 6 really is the ultimate practical supercar.
Follow PaulMaric on Twitter