Australian prices, specifications and the complete model lineup for the 2017 Land Rover Discovery has been revealed, with three engines and four main trim levels confirmed.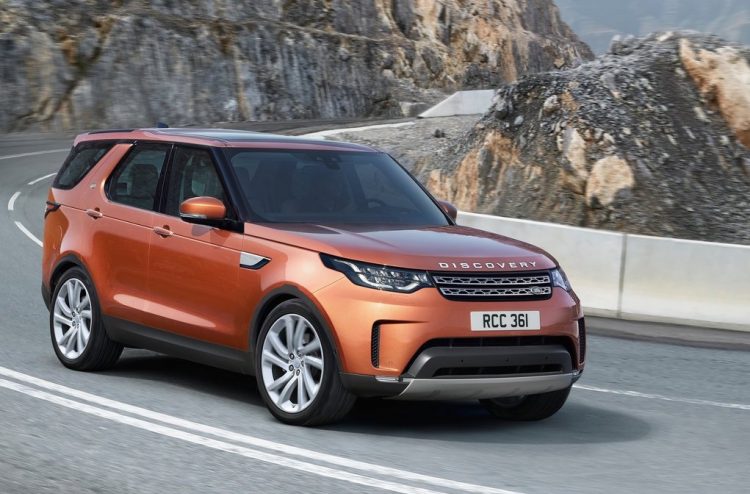 According to data on RedBook, Australia will receive TD4, SD4, and TD6 engine options, spanning across S, SE, HSE, and HSE Luxury trim lines. There's also going to be a First Edition variant exclusively with the TD6.
All models will be available in five-seat and sever-seat configuration, according to the data, with the First Edition only in seven-seat form. All come with four-wheel drive and an eight-speed automatic transmission.
Starting with the TD4, it's a 2.0-litre turbo-diesel four-cylinder producing 132kW and 430Nm. It offers an impressive average fuel consumption of just 6.2L/100km, with a 54-litre fuel tank providing a theoretically average range of 871km.
Next up, the SD4 uses a twin-turbo version of a similar engine, producing 177kW and 500Nm. It offers an average consumption of 6.4L/100km, with a 77-litre tank providing a potential average range of 1203km.
At the top of the range is a TD6. It's a 3.0-litre turbo-diesel V6 developing 190kW and 600Nm, with an average consumption of 7.2L/100km. Using an 85-litre tank, its theoretical average range is 1181km.
By the looks of it, all models will come with plenty of safety technologies as standard, including lane departure warning, pedestrian avoidance technology with auto braking, trailer sway control, and forward collision mitigation (low speed), all at minimum.
Other standard features are set to include dual-zone climate control (at minimum), a touch-screen interface and digital dash, tow hooks front and rear, push-button start, speed sensitive electric power steering, multiple 12V sockets, and a laminated windscreen.
The new model isn't scheduled to arrive in Australia until July, 2017. Starting prices will be as follows (excluding on-roads):
2017 Land Rover Discovery S Td4 – $65,960
2017 Land Rover Discovery S Td4 seven-seat – $71,560
2017 Land Rover Discovery S Sd4 – $71,560
2017 Land Rover Discovery S Sd4 seven-seat – $77,960
2017 Land Rover Discovery S Td6 – $78,560
2017 Land Rover Discovery S Td6 seven-seat – $84,960
2017 Land Rover Discovery SE Td4 – $77,050
2017 Land Rover Discovery SE Td4 seven-seat – $81,590
2017 Land Rover Discovery SE Sd4 – $83,450
2017 Land Rover Discovery SE Sd4 seven-seat – $87,990
2017 Land Rover Discovery SE Td6 – $90,450
2017 Land Rover Discovery SE Td6 seven-seat – $94,990
2017 Land Rover Discovery HSE Td4 – $87,150
2017 Land Rover Discovery HSE Td4 seven-seat – $90,550
2017 Land Rover Discovery HSE Sd4 – $93,550
2017 Land Rover Discovery HSE Sd4 seven-seat – $96,950
2017 Land Rover Discovery HSE Td6 – $100,550
2017 Land Rover Discovery HSE Td6 seven-seat – $103,950
2017 Land Rover Discovery HSE LUXURY Td4 – $100,950
2017 Land Rover Discovery HSE LUXURY Td4 seven-seat – $104,350
2017 Land Rover Discovery HSE LUXURY Sd4 – $107,350
2017 Land Rover Discovery HSE LUXURY Sd4 seven-seat – $110,750
2017 Land Rover Discovery HSE LUXURY Td6 – $114,350
2017 Land Rover Discovery HSE LUXURY Td6 seven-seat – $117,750
2017 Land Rover Discovery First Edition Td6 – $132,160