The all-new 2015 Kia Sorento is now on sale in the Australian market, priced between $40,990 for the Si petrol and $55,990 for the top-spec Platinum diesel.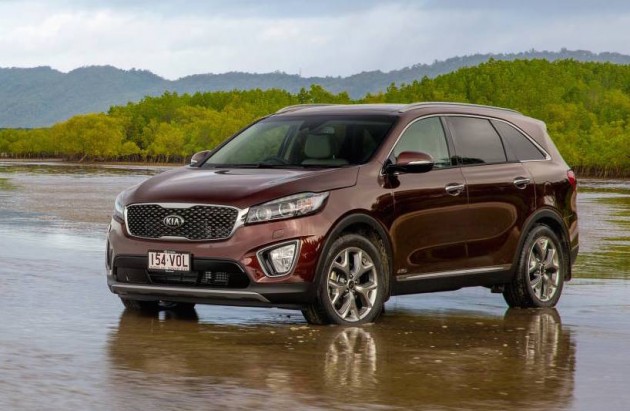 Sharing its platform with the new Carnival, the 2015 Sorento promises significant improvements in noise, vibration and harshness (NVH), increased interior dimensions, and a higher-quality interior.
To that end, Sorento has grown 95mm in length, to 4780mm; 5mm in width to 1890mm, and its wheelbase has been stretched by 80mm, to 2780mm, for increased room. Height has been reduced however, for lower-slung proportions; from 1735mm to 1690mm.
NVH improvements come in the way of a 29 per cent thicker dashboard soundproofing panel, larger engine and transmission mounts for added damping, and an acoustic shield for the engine timing cover. The net result is a 3-6 per cent reduction in cabin noise.
Engines for the new rig consist of either a 3.3-litre 199kW, 318Nm V6 petrol, or the torquey 2.2 'R' diesel, with 147kW and 441Nm. Kia says both engines have been reviser for beefier low-mid-range torque.
On the safety front, lane departure warning, smart cruise control, blind spot detection and rear cross traffic alert on Platinum bolster the Sorento's safety repertoire.
Notably, the Sorento also has one of the coolest design development aliases we've heard of; 'Streetwolf'. The all-new Sorento hits Kia showrooms from June 7, at prices starting for the following (excluding on-roads).
2015 Kia Sorento Si petrol – $40,990
2015 Kia Sorento SLi petrol – $45,990
2015 Kia Sorento Si diesel – $44,490
2015 Kia Sorento SLi diesel – $49,490
2015 Kia Sorento Platinum diesel – $55,990