The MY2017 Hyundai Sonata has just been announced for Australia, packed with more features than ever before.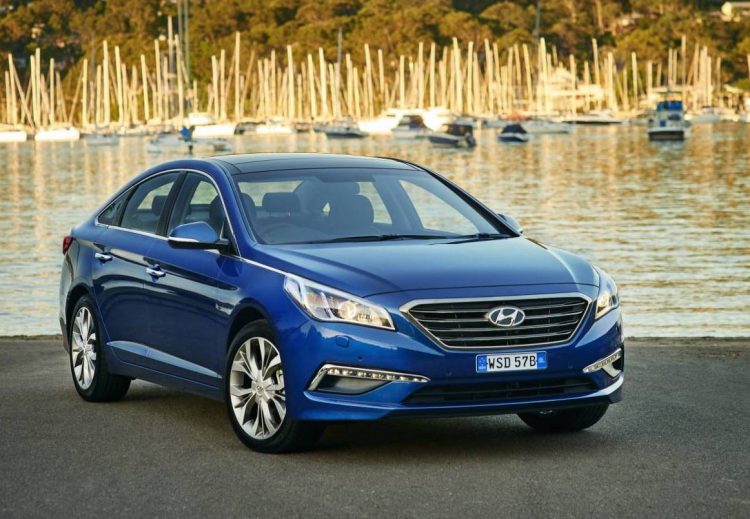 All three variants get a boost in equipment, with the entry level Active now coming with paddle shifters on the steering wheel, and 17-inch alloy wheels wrapped in new Continental Premium Contact 5 tyres.
Next up, the mid-spec Elite also gets the features above as well as auto wipers, heated front seats, front parking sensors, an electric handbrake, and an optional panoramic glass roof.
At the top of the range, the Premium gets 18-inch alloy wheels with sportier Michelin 235/45 tyres. Blind-spot detection, lane departure warning and lane change assist, rear cross-traffic alert, and radar cruise control is also thrown in.
As before, the Sonata comes in two engine options. The Active gets a 2.4-litre GDi petrol producing 138kW and 241Nm, while the Elite and Premium come with a 2.0-litre turbo four-cylinder developing 180kW and 320Nm.
All variants come with LED daytime running lights, a rear-view camera, cruise control, Bluetooth, and a multimedia touch-screen interface. The interface is 5.0 inches in the Active and 8.0 in the Elite and Premium.
The Sonata is still one of the better value propositions in the mid-size market segment, however, sales don't seem to reflect that. So far this year (through June) Hyundai Australia has sold 939 examples of the Sonata, placing it as the fifth most popular model in the class. Sales are up 35 per cent compared with last year though.
Hyundai says the updated model is available in some new colour options, including Shade Bronze, along with a beige interior. It also says the new tyres make a big improvement. Hee Loong Wong, Hyundai Australia's GM of product engineering, said;
"We engaged former Hyundai WRC driver Chris Atkinson to evaluate them at the limit of adhesion under controlled conditions. His feedback, along with that of HMCA chief test driver Andrew Tuitahi, was very pleasing. We have seen gains in outright grip level, ride comfort and quietness."
The MY17 Sonata is on sale now, with prices starting from the following (excluding on-roads):
2017 Hyundai Sonata Active 2.4 – $30,590
2017 Hyundai Sonata Elite 2.0T – $38,350
2017 Hyundai Sonata Premium 2.0T – $45,490