Tempted by a sports car but prefer to fly under the radar with refined performance and quality? Audi offers the new S4 in sedan and Avant wagon form in Australia, blending smooth, relentless power with high-end luxury and technology.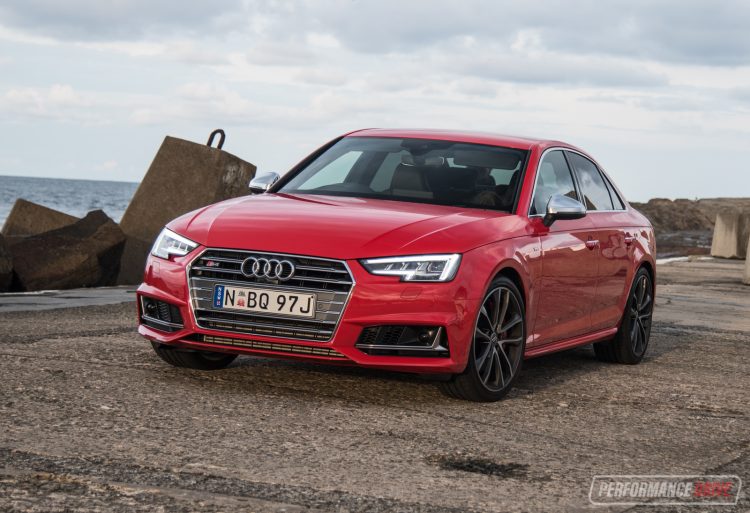 The S4 competes with the likes of the BMW 340i M Sport, the Mercedes-AMG C 43, and the Jaguar XE S. With its 3.0-litre single-turbo V6 petrol engine producing 260kW and a meaty 500Nm, it sits squarely in the middle of the range in terms of on-paper specs.
Unlike most of those rivals though, the S4 comes exclusively with all-wheel drive, forging itself a new dimension in all-weather performance for the class. Behind the longitudinally-mounted V6 is an eight-speed automatic transmission – a similar ZF unit that's seen in the BMW and Jaguar, actually.
Prices in Australia kick off at $99,900 for the sedan, and $102,900 for the Avant wagon. This is right up against the rivals on price, except the slightly more expensive Mercedes C 43 sedan that's priced from $101,900 (all excluding on-roads).
2017 Audi S4 Sedan – THE SPECS
Engine: 3.0-litre turbo V6
Output: 260kW@6400rpm / 500Nm@1370-4500rpm
Transmission: Eight-speed auto
Drive type: All-wheel drive
Wheels: F & R: 19×8.5, 245/35
ANCAP: Five stars
Tare weight: 1735kg
Power-to-weight: 6.67:1 (kg:kW)
Official fuel economy: 7.7L/100km
Economy during test: 11L/100km
Fuel capacity/Type: NA/95 RON
Power efficiency: 33.76kW:L/100km
0-60km/h: 2.41 seconds*
0-100km/h: 4.72 seconds*
60-110km/h: 3.10 seconds*
1/8 mile: 8.50 seconds at 141.1km/h*
1/4 mile: 13.16 seconds at 175.0km/h*
100-0km/h braking: 2.86 seconds at 36.26 metres*
Decibel at idle: 43*
Peak decibel at 60-100km/h: 80*
Priced from: $99,900
* Figures as tested by PerformanceDrive on the day. Factory claims may be different

2017 Audi S4 Sedan – THE PACKAGE
For us, one of the most attractive ownership experiences with the S4 is the living environment. This is a beautifully presented interior. Every element, both look and touch, has high-end prestige steaming from it. From the diamond-stitched sports bucket seats – multi-way power adjustable in the front – to the exquisite carbon fibre centre console and dash fascia.
Switchgear and build quality is also impeccable. You simply won't find a package in this space that's as well put together as the S4's interior. The control knobs feel like they have been carved out of billet aluminium, and the buttons have that quintessential Germanic robustness to them.
And it's the same story with the on-board technology and features. The S4 comes standard with Audi's crisp virtual cockpit dash display for the driver. This is a fully digital screen that is creatively organised to showcase dials and data, with superb graphics, and it can be configured in a number of ways.
You can place map information from the sat-nav in there, taking either one third or the entire width of the display, or you can switch to a sporty layout with traditional-style gauges. There's also lap timer menus and configurable driving data you can display.
This all trickles through to enhance the overall in-car experience. You're constantly aware that you're interacting with a premium product. And that makes you feel good every time you step inside, and every time you leave.
We love the sports seats in the front. They offer reassuring, hip-hugging security when you're carving up the bends, but they're also soft and comfortable for touring. Driving controls are perfectly placed, with an upright steering wheel and centred column with pedals that lie right at your feet. The driving position is spot-on.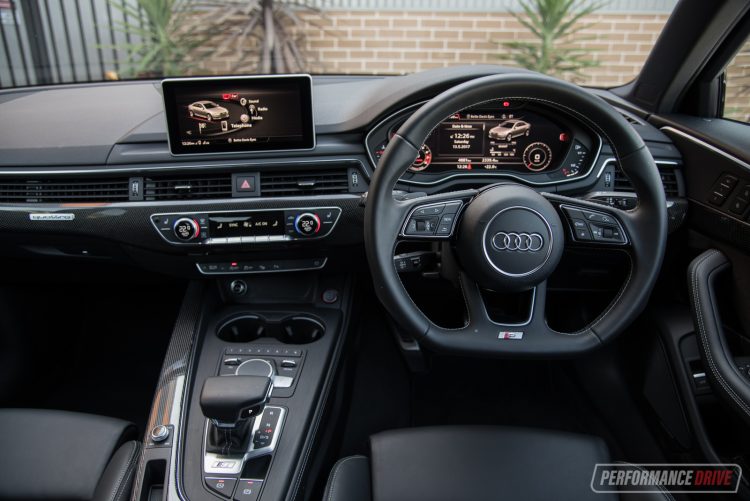 In the back the contoured rear bench offers long under-thigh support, with enough legroom to place it at above average for the class. However, the seat surface is quite low which can make it feel somewhat claustrophobic – the car rides quite low too. Decent-sized windows and window sill height does relieve this though, and headroom is respectable for the class.
Boot space is rated at 480 litres, comparing evenly against the BMW 3 Series (480L) and the Mercedes C-Class (480L), while defeating the Jaguar XE (450L). This can be expanded to 965L with the rear seats folded down, providing a big opening into the cabin area.
2017 Audi S4 – THE DRIVE
Audis have long been regarded for their safe and sure-footed driving character, although lacking a little in the excitement department. You only need to push the stainless steel-like start button to see some of this instantly shaken off with the S4.
It abruptly burbles into life, settling to a baritone note just below 1000rpm. It sounds good, and serious about its work. Even at idle. There is a sound-enhancer system somewhere within the dash that amplifies the engine note. We don't think there is any need for it though, as the exhaust itself, at the quad-outlet tips, emits a cool soundtrack.
The engine is an all-new unit, Audi says, designed from the ground up. It replaces the supercharged V6 from the predecessor, weighing 14kg less, using a reverse manifold setup like a lot of the modern V8 nowadays. There's a single twin-scroll turbo mounted at the back of the exhaust manifold, in the middle of the 90-degree vee.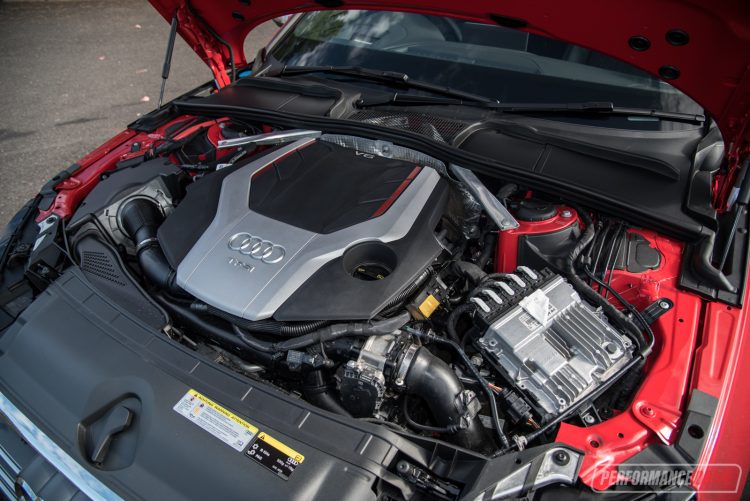 To ensure maximum versatility, the S4 offers Audi's drive select system with a number of different driving modes. The most enthusiastic of which, called Dynamic, sees the fake exhaust sounds turned up the loudest. It also firms up the standard adaptive dampers, and sharpens up throttle, steering, and transmission response.
Unusually, for a modern Audi, the S4 isn't equipped with a dual-clutch transmission. And on initial thought this might seem like a drawback, but go for a spirited drive and you'll see the ZF eight-speed is a brilliant unit. Up-changes are incredibly swift for a torque-convertor auto, and you get that trademark fart noise as the gears change. Meanwhile, down-shifts are pretty much as quick as those in a dual-clutch. There really is no sacrifice. The upshot of the torque convertor is that it is very smooth and gentle when driving slowly and in stop-start conditions.
About the only sacrifice of the transmission is its calibration. In the default drive mode it does like to hunt for higher gears as soon as possible in the name of conserving fuel. For a dedicated sports model this can seem a little contradictory. You can always tug the left paddle to call up a shorter ratio in any case, or you can select the sportier drive modes and it will try to keep the revs higher for you.
Fortunately, the engine doesn't really require high revs. Peak torque is available from just 1370rpm. This means you have access to loads of low-down punch, and the S4 will be happy to surge up through a higher gear and pull you up to speed effortlessly.
Speaking of effort, the engine is a real gem. It's very malleable and offers what feels like way more than 260kW. Mashing the accelerator pedal deep into the carpet in auto mode results in neck-jolting response and forward thrust. In our opinion the engine feels like it produces around 300kW.
And we can't attribute much of the response and acceleration to the car's weight, either. Although engineers undertook extensive chassis development for the latest model (cutting 75kg), the end result is a less-than-impressive tare weight of 1735kg. Keep in mind there is an all-wheel drive system underneath.
Nonetheless, using our timing gear we clocked the 0-100km/h sprint in an eye-opening 4.72 seconds – matching Audi's claim – and the quarter mile in a shave over 12 seconds. Compared with the 240kW BMW 340i (5.1 seconds, official claim) and the 250kW Jaguar XE S (5.1), only the 270kW Mercedes C 43 can match this. Mind you, these competitors weigh under 1700kg (except the 1739kg C 43).
Where this weight does become a weaker link in the chain is in the corners. Don't get us wrong, the S4 is extremely sure-footed, confident, and skilled in the bends. It's the sheer agility and response that isn't quite at the level of the rear-drive rivals, in our opinion. Steering feedback is very formal and you don't get much to play with.
It takes on corners in an orderly fashion, doing a proper, professional job, rather than doing it with a smile. The centre differential splits torque delivery 40/60 front/rear in normal driving conditions, but under certain loads it has the ability to send up to 85 per cent to either end. This pretty much kills any chance of enjoying any play or oversteer. But again, the stability and grip is astounding.
Around town the S4 is an exceptional luxury car. As we said, there is genuine quality and refinement here. In other words, it more than earns its title of being the flagship Audi A4.

2017 Audi S4 Sedan – THE VIDEO
2017 Audi S4 Sedan – THE VERDICT
They say the S4 has always been a wolf in sheep's clothing. We tend to disagree. We like to think of it as more of a wolf in James Bond's clothing. It's sharp dressed and clever yet it has the ability to snap with controlled aggression. Like most James Bonds, it could probably do with some dieting.
We really enjoy the new S4. It's always been the most understated and subtle of the sub-performance mid-size premium sedans, giving it a charming, almost shy personality that doesn't scream, 'look at me, look at me'. Having all-wheel drive means it can be enjoyed by a wide variety of driver types, too. And as we said, the engine's power level feels much higher than the brochure claims, adding to the 'sleeper' effect.
PROS:
– Flawless build quality
– Super-impressive power and acceleration
– Smart design inside and out
– Versatility and broad skill set
– Advanced technology

CONS:
– Steering/handling engagement not up there with the class leaders
As always, if you're thinking about buying a new car don't forget to click here to speak with our car buying specialists.