It seems Pagani is going to take a crack at the Nurburgring production car lap record with its Huayra BC.
Pagani isn't usually one to be fighting for lap times. It's usually above that sort of playing around, instead focusing on exclusivity, insane attention to detail, and pure construction exotica.
The Italian marque is no stranger to the Nurburgring however, as it is keen to help us remember it was the manufacturer of the record-setting car back in 2005. The Pagani Zonda S set a lap time of 7:44, which, at the time, was a record for a production car.
A video has surfaced on the 'Tube showing Pagani hammering a Huayra BC around the circuit. It was soon followed by an Instagram post by Pagani, relating to the original Nurburgring record.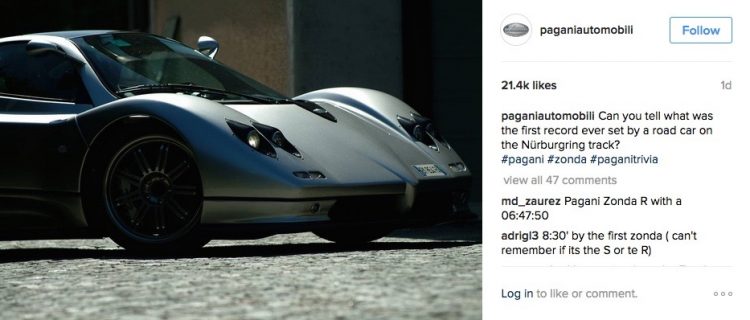 It doesn't take a genius to figure out what might be happening here. With Porsche still holding the official record with the 918 Spyder (6:57), Koenigsegg has been hot on the heels – so hot it pushed too hard in the One:1 that it crashed during an attempt. McLaren is also yet to confirm its time for the P1, only saying that it has done it in under 7:00. Ferrari hasn't really shown much interest in claiming the title, although the LaFerrari could certainly be capable.
Speaking of potential, the Huayra BC definitely has it. This is the stripped out version of the already-insane Huayra hypercar. It features a 6.0-litre twin-turbo AMG V12 engine that's been tweaked further to produce 588kW (up 45kW)
The BC also features a unique aero package with more aggressive wings and diffuser, and is also 132kg lighter in weight, helping to significantly improve its power-to-weight ratio and overall performance.
It's understood the driver attempting the record is Marc Basseng. He has previously broken lap records in other vehicles, such as in the Pagani Zonda R track car (6:47). We can't wait to see how this unfolds. Stay tuned.