We've seen images of an Audi RS 3 sedan (below) and we've seen an alleged official document outlining Audi's future product plans including evidence of an RS 3 sedan, but it's not until now that we get some details on the specs.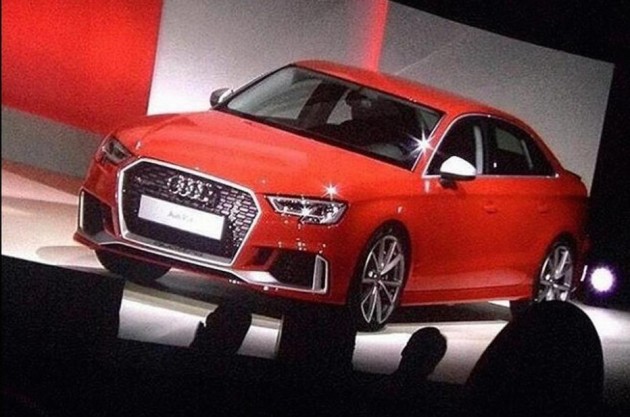 According to a recent Car and Driver report, the new RS 3 sedan will debut a unique 2.5-litre turbo five-cylinder engine. Yes, we hear all of the Audi fans saying the RS 3 Sportback already uses a 2.5-litre five-pot, but it's understood engineers are completely overhauling the unit so almost every single component is brand new.
The report says the new engine will debut in the next TT RS at the Beijing motor show, based on the freshly-introduced TT. There's talk of the engine producing up to 300kW, up from the current max-output 270kW rating.
This engine is believed to be lined up for the RS 3 sedan as well, essentially becoming the facelifted performance version of the A3 lineup. With this kind of power we can probably expect a 0-100km/h time of around 4.0 seconds.
Audi will be looking to take down the mighty Mercedes-AMG A 45 super hatch and its CLA 45 brother, with their 280kW output and 0-100km/h time of 4.2 seconds.
As for the TT RS, well, it's always been an incredibly potent little coupe. However, the sportiest version of the new model currently on sale is the 210kW TT S, which means Audi could be missing out on some potential sales having no TT RS option in the showroom.
More details on both models are set to be announced in the coming weeks, in the lead up to the Beijing show which starts on April 25. Stay tuned.