Seeing a Ferrari F40 crash aftermath is not a pretty sight. It actually hurts ours eyes. Last week an 80-year-old businessman crashed one of the rare supercars near Switzerland.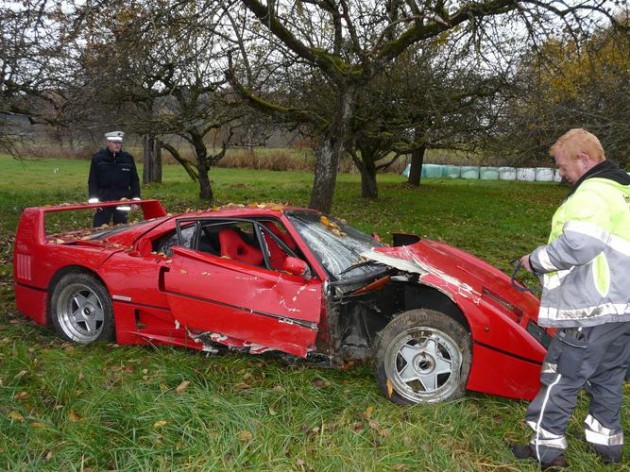 The man was driving down in south Germany near the Swiss border when he lost control of the Ferrari F40. It then bounced off a tree and slumped to a stop on the grass off the side of the road.
Fortunately, nobody was injured in the Ferrari F40 crash. The driver has apparently since been released from hospital after routine checks.
As for the Ferrari, well, it has obviously seen better days. The entire front right side is in very poor condition, with the front right suspension also taking a beating. The roof also appears to be kinked quite badly, while the carbon fibre body is snapped up badly as well.
According to German police, the damages are expected to exceed 250,000 euro (around AU$ 333,428). From the image, it does look like it could be repairable, or at least salvageable, particularly the engine and rear sub-frame.
Just to refresh your memory, the Ferrari F40 is an anniversary special supercar, and was the last Ferrari to be commissioned by Enzo Ferrari before his death. It features a 2.9-litre twin-turbo V8 producing 352kW of power on 16psi of boost. Only 1315 were ever produced.
The Ferrari F40 was also the first production car to crack the 200mph (322km/h) barrier.