Australia's favourite ute has just been given a major overhaul and now it's finally on sale in Australia; the 2016 Toyota HiLux.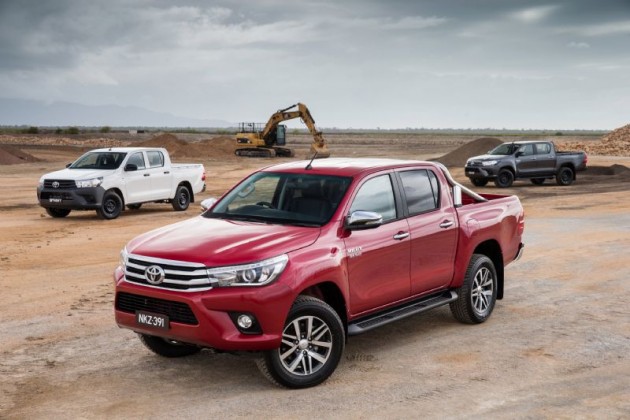 The new model is labelled as the "toughest" ever, with a thicker frame, stiffer body, and "beefed-up" suspension and brakes, with even better off-road capability, Toyota says.
All up, there are 31 different variants to choose from in Australia, spanning from single-cab 4×2, to the range-topping dual-cab 4×4. Towing capacity is now up to 3.5 tonnes, with payloads of up to 1240kg.
For those who opt for a diesel engine, there's a new 2.8-litre turbo four-cylinder producing 130kW and 450Nm with a new six-speed auto (420Nm for six-speed manual), and a fresh 2.4-litre turbo-diesel producing 110kW and 400Nm.
Both diesel engines are more fuel efficient than those they replace, offering improvements of 10 per cent in economy and emissions. For the volume-selling 4×4 SR5, for example, average consumption is rated at 7.6L/100km for the manual, down from 8.3L/100km.
For the petrol lovers, the 2.7-litre four-cylinder and 4.0-litre V6 carry over, albeit revised. The 2.7 now produces 122kW and 245Nm (up 6kW and 5Nm), while the V6 retains its 175kW and 376Nm output. Economy has been improved, with the 2.7 offering a best average of 10.4L/100km, and the V6 offering 11.5L/100km (down from 11.7-12L/100km, depending on variant). All engines are now Euro 5 compliant.
In terms of creature comforts and cabin features, all models have a 12-volt socket, with the SR5 variants coming with two (SR5 double cabs also get a 220-volt socket), while the front seats offer a greater range of adjustment. SR and SR5 models have a 60:40 split-fold rear seat with a central armrest, and Workmate models now come with a 6.1-inch touch-screen multimedia system.
The complete range is covered by Toyota Service Advantage which includes capped-price servicing ($180 each) for three years or 60,000km (whichever comes first). See below for the full price list (excludes on-roads). We are aiming to review the new model as soon as we can.
| | | | |
| --- | --- | --- | --- |
| 4X2 Single Cab (cab chassis) |  Towing |  Payload |  Priced from |
| Workmate, 2.7 P, man | 2500kg | 1225kg | $20,990 |
| Workmate, 2.7 P, auto | 2500kg | 1210kg | $22,990 |
| Workmate, 2.4 TD, man | 2500kg | 1240kg | $24,990 |
| SR, 2.8 TD, man | 2500kg | 1235kg | $28,490 |
| | | | |
| 4×2 Extra Cab (pick-up) |   |   |   |
| SR, 2.8 TD, man | 2500kg | 1040kg | $35,490 |
| | | | |
| 4×2 Double Cab (pick-up) |   |   |   |
| Workmate, 2.7 P, man | 2500kg | 1035kg | $30,690 |
| Workmate, 2.7 P, auto | 2500kg | 1025kg | $32,690 |
| Workmate, 2.4 TD, man | 2500kg | 1020kg | $33,990 |
| SR, 4.0 P, auto | 2500kg | 1015kg | $41,990 |
| Hi-Rider SR, 2.8 TD, man | 2800kg | 1000kg | $39,990 (new) |
| Hi-Rider SR, 2.8 TD, auto | 2800kg | 1000kg | $41,990 (new) |
| Hi-Rider SR5, 2.8 TD, man | 2800kg | 1000kg | $47,990 (new) |
| | | | |
| 4×4 Single Cab (cab chassis) |   |   |   |
| Workmate, 2.4 TD, man | 3200kg | 1225kg | $36,990 (new) |
| Workmate, 2.4 TD, auto | 3000kg | 1225kg | $38,990 (new) |
| SR, 2.8 TD, man | 3500kg | 1205kg | $39,490 |
| SR, 2.8 TD, auto | 3200kg | 1205kg | $41,490 |
| | | | |
| 4×4 Extra Cab (cab chassis) |   |   |   |
| Workmate, 2.4 TD, man | 3200kg | 1120kg | $40,490 |
|   |   |   |   |
| 4×4 Extra Cab (pick-up) |   |   |   |
| SR, 2.8 TD, man | 3500kg | 1005kg | $44,490 |
| SR5, 2.8 TD, man | 3500kg | 1010kg | $51,990 |
| | | | |
| 4×4 Double Cab (cab chassis) | |   |   |
| SR, 2.8 TD, man | 3500kg | 1045kg | $44,990 |
| SR, 2.8 TD, auto | 3200kg | 1045kg | $46,990 |
| | | | |
| 4×4 Double Cab (pick-up) |   |   |   |
| Workmate, 2.4 TD, man | 3200kg | 955kg | $43,990 (new) |
| Workmate, 2.4 TD, auto | 3000kg | 955kg | $45,990 (new) |
| SR, 4.0 P, auto | 3000kg | 1000kg | $48,490 (new) |
| SR, 2.8 TD, man | 3500kg | 920kg | $46,490 |
| SR, 2.8 TD, auto | 3200kg | 920kg | $48,490 |
| SR5, 4.0 P, auto | 3000kg | 1000kg | $55,990 |
| SR5, 2.8 TD, man | 3500kg | 925kg | $53,990 |
| SR5, 2.8 TD, auto | 3200kg | 925kg | $55,990 |
| SR5, 2.8 TD, man | 3500kg | 925kg | $55,990 |
| SR5, 2.8 TD, auto | 3200kg | 925kg | $57,990 |