The 2014 Subaru Outback is being introduced for the Australian market, equipped with an updated, more adventurous styling character, along with $2500 in added value with only an overall price jump of $500.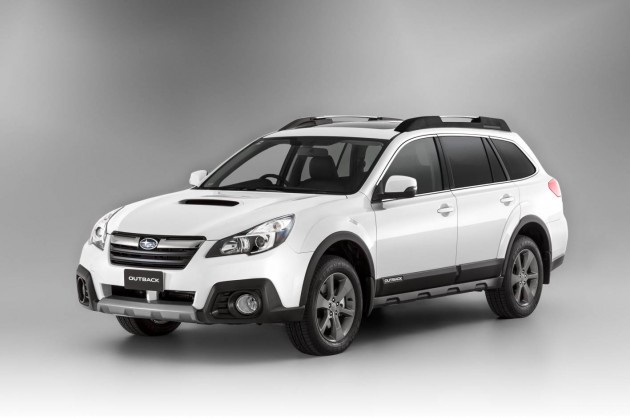 As you can see, Subaru is taking the Outback's original personality and turning it up a notch for the MY2014. The new model comes with various recreation-ready add-ons such as roof rails, chunky side sills and cladding, bolstered wheel arches, and a set of dark grey alloy wheels.
There's also front and rear mud flaps, underbody guard protectors, and some black-background headlights and a dark grille for that sporty look. Nick Senior, Subaru Australia managing director, recently spoke about the updates, saying,
"We've had a lot of customer feedback suggesting owners would like a slightly tougher-looking Outback with greater body protection, which is especially useful on rural roads where this wagon rates highly.

"These MY14 upgrades deliver on both fronts and will help maintain Outback's profile as one of the most versatile and capable wagons on Australian roads."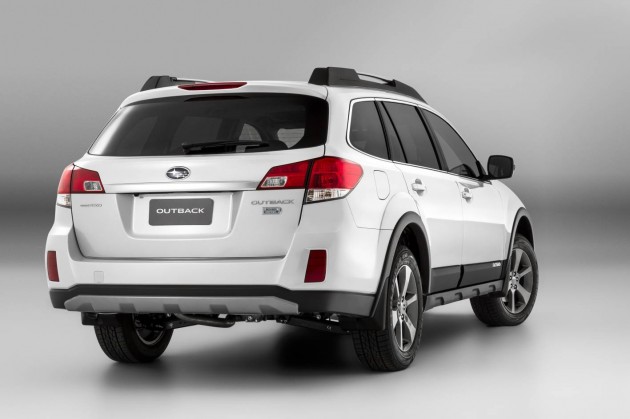 Classed as a 'sports utility vehicle' the Outback is regarded as the pioneer of the segment, first offering the nameplate, and the semi-off-road wagon, to the market back in 2006.
The engine lineup will carry over from the current range, with three choices; a 127kW 2.5-litre four-cylinder, a 110kW 2.0-litre turbo-diesel, and a 191kW 3.6-litre flat six.
Even with the added features, prices have jumped only $500 per variant. See below for the full price list (excluding on-road costs):
2014 Subaru Outback 2.5i CVT auto – $38,990
2014 Subaru Outback 2.5i CVT auto option pack – $40,490
2014 Subaru Outback 2.5i Premium CVT auto – $43,490
2014 Subaru Outback 2.0D manual – $40,490
2014 Subaru Outback 2.0D CVT auto – $42,990
2014 Subaru Outback 2.0D Premium manual – $43,490
2014 Subaru Outback 2.0D Premium CVT auto – $45,990
2014 Subaru Outback 3.6R Premium auto – $57,990