Jaguar Australia has announced local prices for the new 2016 Jaguar XF large luxury sedan range, which arrives during the start of 2016.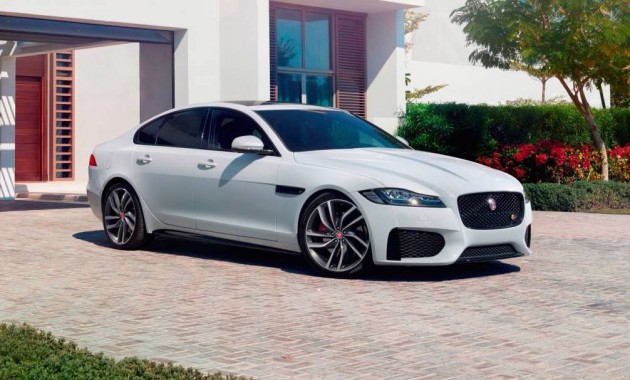 As revealed in March this year, the 2016 XF features a sleek design facelift while retaining a similar profile and silhouette as the outgoing model. Aerodynamics have been improved, with a Cd of just 0.28, while cabin space has been increased, particularly in the rear – rear seat space has grown 15mm in terms of legroom and 27mm in terms of headroom
Four main model lines will go on sale in Australia, spanning from the Prestige, Portfolio, R-Sport, to the range-topping XF S. These are then divided up by four engine choices.
Engines span from a 2.0-litre turbo-diesel '20d' producing 132kW, to a '25t' 2.0-litre turbo-petrol developing 177kW, up to a 3.0-litre '35t' supercharged V6 thumping out 250kW. A 3.0-litre turbo-diesel V6 is also on offer, developing 221kW.
Standard features across the board, at minimum, include 18-inch alloy wheels, 10-way power front seats, dual-zone climate, interior mood lighting, an 8.0-inch touch-screen interface system (10.2-inch is optional), and a 380-Watt Meridian sound system including a sub-woofer. InControl apps and SD satellite navigation is also standard, as is autonomous emergency braking technology.
Jaguar has made some significant revisions to the body and platform for the new XF in the name of improving handling and agility. An extensive use of aluminium in the chassis helps to shed up to 190kg, assisting with performance and economy. Speaking about the new model compared with the outgoing version, Ian Hoban, vehicle line director at Jaguar, said,
"It offers even better dynamics, even greater refinement for the comfort of its occupants, it delivers an all-new infotainment system, and it utilises every last mm of packaging to maximise interior space, while exploiting all the weight-saving optimisation offered by our new aluminium-intensive architecture."
Local deliveries are scheduled to commence during the first quarter of 2016. Prices start from the following (excluding on-road costs):
2016 Jaguar XF Prestige 20d (132kW 2.0 Ingenium Diesel) – $82,800
2016 Jaguar XF Portfolio 25t (177kW 2.0 Petrol) – $97,800
2016 Jaguar XF Portfolio 35t (250kW V6SC Petrol) – $112,800
2016 Jaguar XF R-Sport 20d (132kW 2.0 Ingenium Diesel) – $88,800
2016 Jaguar XF R-Sport 25t (177kW 2.0 Petrol) – $89,800
2016 Jaguar XF R-Sport 35t (250kW 3.0 V6SC Petrol) – $104,800
2016 Jaguar XF S (221kW 3.0 V6 Diesel) – $120,700
2016Jaguar XF S (280kW 3.0 V6SC Petrol) – $128,200