Kia has released some preview sketches of its all-new upcoming luxury sedan; the 2017 Cadenza. It showcases a striking body design and a vastly updated interior.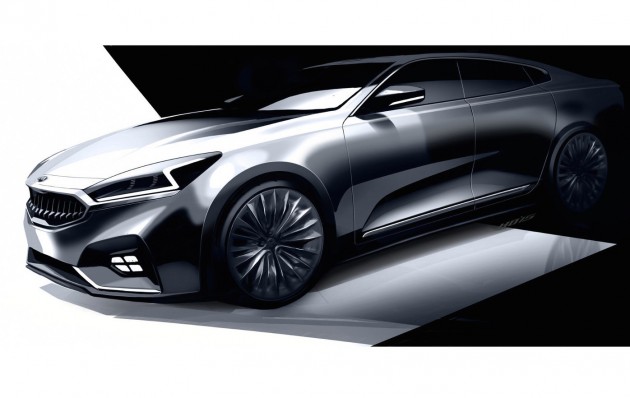 The Cadenza isn't currently sold in Australia, but in some overseas markets it is one of the company's flagship models. It's currently based on the Hyundai/Kia Type-N platform, also shared with the Hyundai Sonata and Kia Optima.
For the new Cadenza, Kia is applying an all-new styling theme to the luxury sedan. It features nicely curved wheel arches, a prominent front end incorporating a modern interpretation of the 'tiger nose' grille, along with more distinctive body contours and lines.
Inside, it's all about modern luxury. The dash is completely revised compared with the current model, with a new touch-screen interface blending in on the dash, with updated quality materials and trimmings, and more refinement and class added in. Kia said;
"The cabin of the all-new Cadenza has been designed anew, boasting a fresh, luxurious appearance and layout that offers a sense of width and spaciousness… With a premium new design and higher-quality materials than ever before."
No specifics have been mentioned about the powertrain options, but we can probably expect Kia to install the latest 2.0-litre turbocharged four-cylinder in at least some variants. The engine is being used in more and more Hyundai and Kia models.
The 2017 Cadenza will go on sale in selected markets in 2016, with more details expected in the coming months.