Looking for a bit more zing from your ND Mazda MX-5? Renowned Mazda tuner BBR has just announced a stage 1 turbo package for the fun sports car.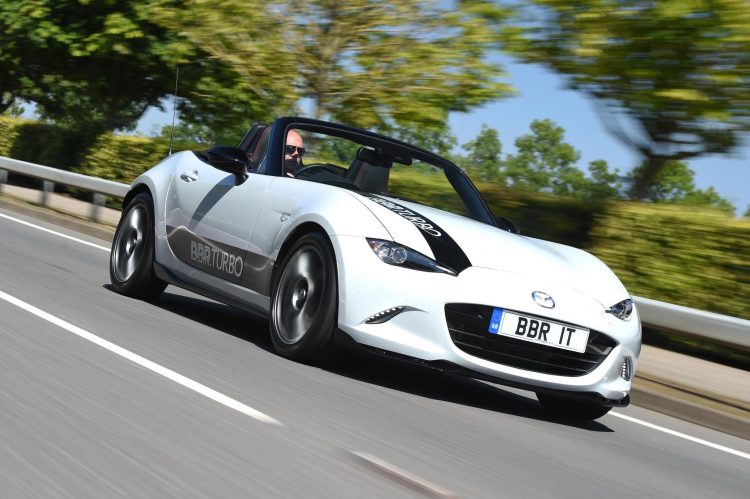 The stage 1 kit has been designed for the 2.0-litre engine option. In standard form the 2.0-litre naturally aspirated four-cylinder produces 118kW and 200Nm, fed through a six-speed manual or auto with rear-wheel drive.
BBR's latest kit sees a TSX30-71R twin-scroll turbocharger affixed to the Mazda motor via a custom cast-iron manifold. There's also an air-to-air intercooler mounted at the front, with no body modifications, BBR claims.
The turbo piping and battery tray have also been designed to look like they come straight from the Mazda factory. Even the K&N high-flow induction system has been discreetly positioned not to upset the factory look under the bonnet.
To control everything there's an EcuTek RaceRom software package which manages the fuel, ignition and turbo boost pressure for optimised performance. Factory ECU fail-safes are left in place, while the turbo is running a mild 7psi of boost to preserve the engine internals.
What's the result? Well, the engine output is lifted to an impressive 185kW and 320Nm. In a car weighing around 1000kg, it will come as no surprise the 0-100km/h sprint takes just 5.0 seconds, while the top speed is limited to 250km/h.
BBR says the stage 1 kit can be applied to any current-gen ND MX-5 2L, including the new RF hardtop. Prices start at £4995 for a drive-in, drive-out fitting.