This is the first proper teaser of the all-new, 2020 Land Rover Defender, giving us a sneak peek at its fresh body design. It looks like the new model will carry over some of the traditional boxy design cues, which should keep traditionalists happy.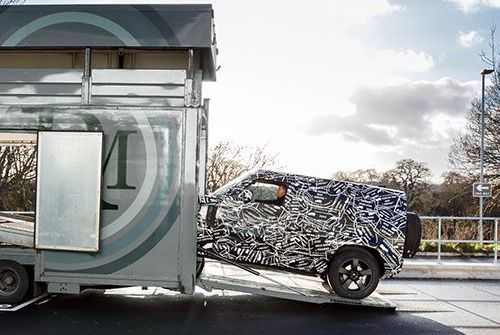 Land Rover's last Defender went out of production in 2016. And even then, it featured pretty much the same body design for decades. This new model will be a difficult one, as Land Rover will want to retain as much of the traditional rugged styling as the predecessors, but at the same time it'll need to pass new safety standards as well as attract new buyers.
Land Rover has used Facebook to show an image of a prototype 2020 Defender, wrapped in disorienting black and white camo. The company doesn't say much, other than "Do not unwrap until 2019". This could suggest more info is coming early in the New Year. It could also mean it won't hit the market until Christmas time next year.
The new model is expected to showcase a design that takes a degree of inspiration from the DC100 concept that was shown back in 2011. Although slightly more rounded panel edges, this teaser clearly shows a flat roof and square rear profile.
As for the technical stuff, Land Rover hasn't spilled any significant beans on this yet. Reports suggest the new model will switch to a fully independent suspension setup front and rear, while a 2.0-litre turbo-diesel four-cylinder is likely to be the sole power source. Land Rover currently offers an Ingenium unit that produces 110kW, 132kW, and up to 177kW.
Above all though, the new Defender is set to continue its excellent off-road capability. In fact, prototypes have been spotted doing the rounds in Europe recently wearing a hashtag on the side saying "#BEST4X4XFAR", as in, best 4×4 by far. We'll have to wait and see. Stay tuned.