Cue the drumroll, the annual 2016 International Engine of the Year award winners have been revealed, with Ferrari snatching the crown from BMW and dominating the awards.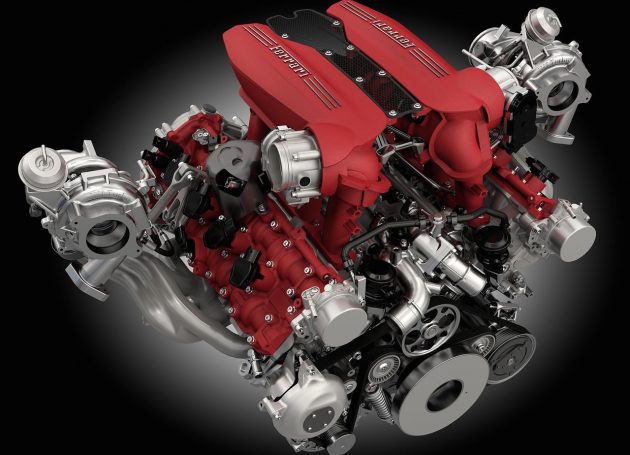 That's right, despite environmental and regulatory pressures, the overall engine of the year award went to our Italian friends at Ferrari, for its work on the 488 GTB's powertrain. Taking the honours with 331 points, the 3.9-litre twin-turbo V8 impressed the judges with its 492kW output and "blend of heart-thumping performance on both road and track, with a glorious V8 Maranello rumble".
Rounding out the podium, BMW's futuristic 1.5-litre three-cylinder petrol-electric hybrid took second place with 278 points. Meanwhile, domestic rival Porsche narrowly snuck into third place with 267 points for its 3.0-litre six-cylinder unit fitted to the latest 911 Carrera, Carrera S, Carrera 4 and 4S.
The environmental Green Engine award went unsurprisingly to Elon Musk's brainchild, Tesla Motors, for the fully electric powertrains fitted to Model S and X models. BMW again snuck into second place with the i8's petrol-electric unit. Swedish manufacturer Volvo managed to take the bronze medal for their efforts on the 2.0-litre turbo and supercharged unit fitted to the XC90 and S90 models, pushing out 303kW.
The New Engine award went to the overall winner, Ferrari's 3.9-litre twin-turbo V8. Volvo's 2.0-litre unit took out second place, and Porsche's 3.0-litre six-cylinder turbo in third. Notable mentions in this segment go to Honda's 2.0-litre turbo fitted to the Civic Type R, and the Ford Focus RS's 257kW 2.3-litre turbocharged unit.
Ferrari took out two of the three top honours in the Performance Engine award, with the 488 GTB taking out the top spot and the Ferrari F12tdf's 6.3-litre V12 giving the maqrue a 1-2 finish. Porsche's 4.0-litre unit from the 911 GT3 RS took out third place, with Mercedes AMG's 4.0-litre twin-turbo V8 finishing fourth.
Overall winners:
Ferrari 3.9-litre biturbo V8 (Ferrari 488 GTB) – 331 points
BMW 1.5-litre three-cylinder electric-gasoline hybrid (BMW i8) – 278 points
Porsche 3.0-litre six-cylinder turbo (Porsche 911) – 267 points
PSA Peugeot Citroen 1.2-litre three-cylinder turbo (Peugeot 208, 308, 2008, 3008, 5008, Citroen C3, C3 Picasso, C4 Cactus, C4, DS3, C4 Picasso / Grand Picasso, DS4) – 180 points
Ford 998cc three-cylinder turbo (Ford Fiesta, B-Max, Focus, C-Max, Grand C-Max, Fiesta Red/Black, Mondeo, EcoSport, Tourneo Connect / Courier) – 157 points
Mercedes-AMG 2.0-litre turbo (Mercedes-Benz A45 AMG, CLA45 AMG (360ps), GLA45 AMG) – 136 points
Ferrari 6.3-litre V12 (Ferrari F12 tdf) – 107 points
Audi 2.5-litre five-cylinder turbo (Audi RS3, RSQ3) – 94 points