The Jaguar C-X17 SUV concept has made its debut at the 2013 Frankfurt Motor Show in Germany. This is the company's first attempt at the off-road segment.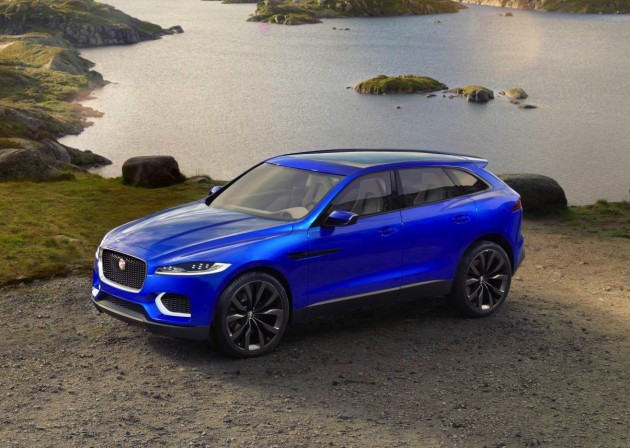 Designed to showcase Jaguar's new advanced aluminium monocoque chassis architecture, called iQ[AI], the platform will eventually be used to underpin a range of new models. The first of which will be a mid-size sedan to rival the BMW 3 Series, arriving in 2015.
As for the C-X17, it demonstrates Jaguar's stylish design language, with a pouncing front end, angular headlights, curvy wheel arches front and rear, and an elegantly finished off rear which seems to borrow some inspiration from the F-Type. Ian Callum, Jaguar's design director, recently said,
"We designed the C-X17 from the ground up from a distinct set of principles, a deep sense of what makes a Jaguar: exciting proportions, clean lines, balance of form. Assertive and powerful, yet with a beautiful sensuality about it, the C-X17 is boldly, distinctively Jaguar."
Details on the engine haven't been mentioned, however, Jaguar says the platform will come with a range of powerful petrol and turbo-diesel units, including the company's latest 3.0-litre supercharged V6 (250kW and 280kW).
Highlight features for the C-X17 include 23-inch alloy wheels, LED headlights, a striking Caesium Blue finish, and an exquisite interior with Jet saddle Connolly and Orchid Connolly leather.
Inside also showcases milled aluminium and black anodised metal trimmings, and an advanced 'Surface Console' interface which is made up of a series of touch-screens, offering all of the media and wi-fi capabilities you'd expect on an ultra modern vehicle.
Even though Jaguar hasn't actually confirmed if an SUV like this will go into production, it is believed a slightly watered down version is on the way.