Rumours are ablaze surrounding the specifications behind the upcoming 2017 Ford Mustang GT500 (likely stamped MY2018), with some speculations suggesting an 800hp output (597kW) for the new beast.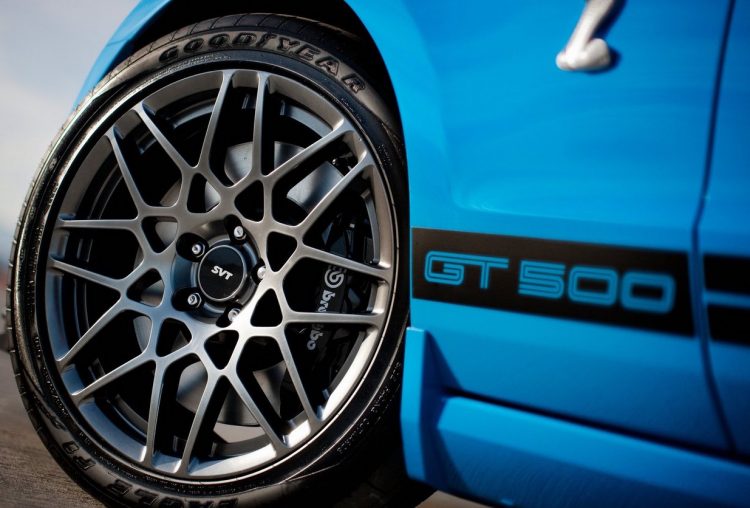 The GT500 sits at the top of the Mustang food chain, however, the nameplate is yet to be applied to the new-shape Mustang. Instead, punters have been given the GT350, which itself is already proving to be a highly-accomplished muscle car.
Sitting in the GT350 is a new 392kW 5.2-litre naturally aspirated V8 that uses a flat-plane crankshaft. This component, usually adopted in motorsport applications including F1, helps to provide an ear-pinching 8250rpm redline. In recent tests in the US, the GT350 has been getting plenty of awards and attention, particularly when media stacks it up against the Chevy Camaro rival, the ZL1.
All of this excitement has kicked up quite a lot of fuss in regards to the next GT500; if the GT350 is already very good, what could Ford possibly do for its flagship?
Well, according to some reports the next GT500 will come with a forced induction version of the 5.2-litre V8 mentioned above. Whether Ford goes for a supercharger kit or a twin-turbo setup is yet to be known. Either way, industry followers are predicting horsepower levels to be somewhere in the vicinity of 800hp.
This might seem like a ridiculous amount of power for a road car, but we must remember when the previous GT500 was launched it set records in its class for being the most powerful, using a 493kW supercharged V8. Ford will probably want to make sure it stays on top of the rivals once again.
Chevrolet has the 480kW ZL1 while Dodge has the now-famous Hellcat-powered muscle cars producing a colossal 527kW. The next-gen Corvette ZR-1 is expected to trump this as well.
A mysterious prototype has been spotted out and about in the US, with all signs pointing to the new GT500. This seems to suggest a debut could take place by the end of the year. Like the GT350, the GT500 is not likely to ever make it to Australia, at least on official terms.