Honda has unveiled the sporty 2016 Civic Coupe at the Los Angeles Auto Show, featuring fresh styling taken from the recently-announced 2016 Civic sedan.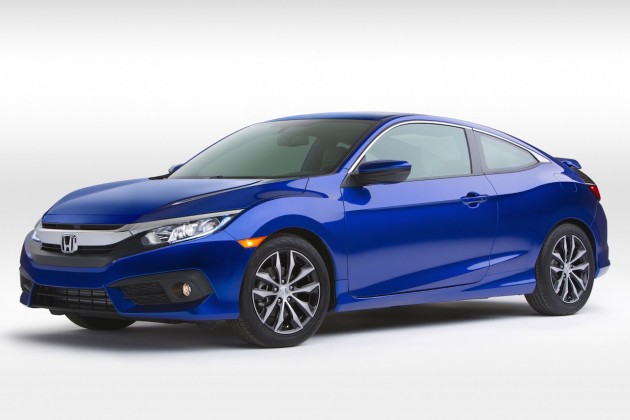 Based on the new Civic sedan that was revealed in September, the Coupe uses a similar front end. However, from the A-pillar forward everything is new, including a swooping roofline that extends down to the sporty rear end.
Under the bonnet sits two engine options, starting with a 2.0-litre naturally aspirated four-cylinder churning out 117kW and 186Nm, with a new range-topping 1.5-litre turbo generating 130kW and 219Nm.
This is the first time the Civic range is being offered with a turbo engine, aside from the latest Type R. Despite the sporty connotations of a 'turbo' engine, the 1.5 is being introduced for its fuel efficiency benefits more so than performance. In fact, some of the rivals produce around this output without a turbo.
At this stage Honda hasn't mentioned anything about the specific performance or even fuel economy, but given the current Civic hatch develops only 104kW, it would be safe to assume the new model is quicker and more efficient.
As for the interior, it sports a five-seat layout incorporating a new touch-screen interface and digital instrument cluster, while top end variants get heated front seats, along with Android Auto and Apple CarPlay functionality.
Honda Australia is likely to introduce the new sedan next year, however, the coupe is expected to be a US-only package. The hot Type R hatch has been locked in for Australia but at this stage it looks like we might get the facelifted version due in around one year.