Hyundai is trying very hard to establish its luxury offshoot 'Genesis' as a serious player in the premium sphere, so it's fair to say at this stage it probably couldn't get away with launching a ute variant.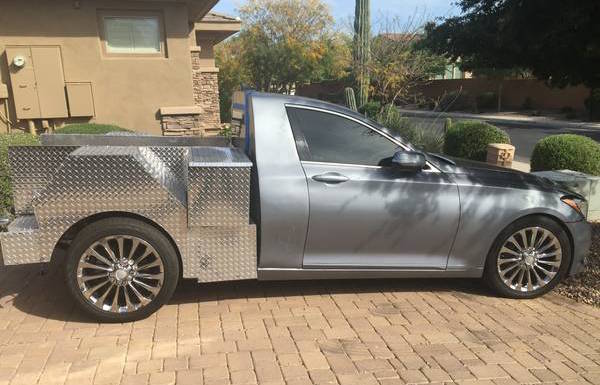 That hasn't stopped this American car butcher from making his own, using a V8-powered Genesis with rear end damage as a starting point.
The car was chopped with new steel welded in behind the B-pillar to create a single-cab ute, including a new opening for the rear window. The 77-year old builder then customised a bed from checkerplate aluminium, with various box sections.
It's said the owner ran into trouble with a dodgy painter meaning that his intentions to turn it into a show car fell sort. Nevertheless, the car has a lot less steel hanging over the rear axle now, which would potentially improve acceleration, if not weight distribution.
The 5.0-litre 'Tau' V8 in the US-spec Genesis produces 313kW and 520Nm. Tragically, V8-loving Australians are denied this pearler of an engine due to packaging constraints with the RHD steering column. Perhaps we could be so lucky with the next generation.
In any case, this ute is for sale in Phoenix, Arizona, for the princely sum of $16,500. Here's hoping the next owner can finish the job properly. Head over to the craigslist ad for more details.