Hyundai has unveiled the 2017 Genesis G80 at the Busan Motor Show. This is the re-branded version of its BMW 5 Series, Mercedes-Benz E-Class and Audi A6 competitor.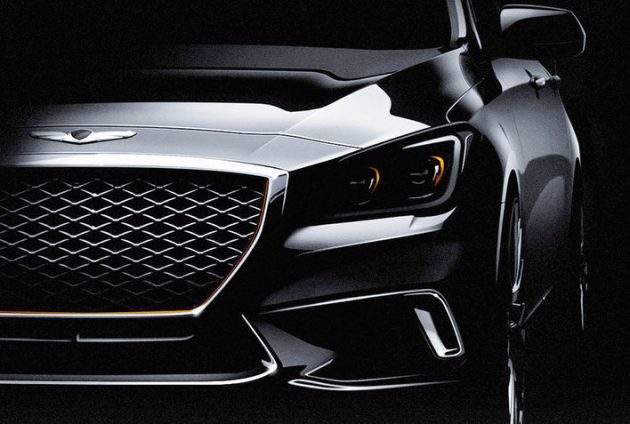 In addition to being absorbed by the luxury marque and jettisoning the Hyundai badge, the G80 also receives a hot new Sport variant and a hot new engine; a 3.3-litre turbocharged V6 generating 272kW and 510Nm of twist.
This compares well to the current model's 3.8-litre, 232kW/397Nm naturally-aspirated V6, which although eager, can be quite thirsty. Our test found this to be the weak link in an otherwise sound package in the outgoing model. Fuel consumption numbers  for the new unit haven't been mentioned yet.
The G80 Sport will rival the 225kW BMW 540i and 245kW Mercedes E 400, both of which it eclipses comfortably for power.
It's still expected to be tied to an eight-speed automatic but with this engine it should be capable of a 0-100km/h time below 6.0 seconds.
There appears to be a greater emphasis on sportiness, with the show car featuring bright red paint, black mirrors, large charcoal rims with a lowered stance and plenty of racy bodykit highlights. The grille and front end treatment is more defined and aggressive as well.
At the unveiling, the new G80 was joined by the 7-Series-sized G90, and the New York concept which is expected to spawn a 3 Series rival called the G70 next year.