An image has surfaced online showing a clear profile view of the all-new 2016 BMW 7 Series. This is set to be one of the most advanced luxury sedans on the market.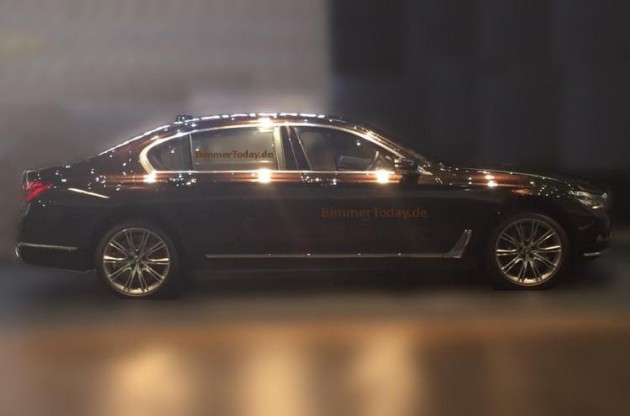 Judging by this image, first published by BimmerToday.de, the new 7 Series will take on a similar design theme that's seen on the latest 3 Series and 4 Series. There appears to be more flowing panels, curvier front guards that lead into slimmer headlights, and a tightened up rear end.
As for some of the features this machine will showcase, drivers will be able to do a number of things with the car just by using the key. However, it's no ordinary key fob. The key features a small screen and touch controls, with industry-first technologies such as automatic parking without needing to be in the car.
The new model will also be built using plenty of carbon fibre in its main structure. The roof and pillars are lined with carbon to increase rigidity and reduce weight, with the kerb weight said to drop by around 130kg.
BMW is also going to introduce gesture control for some of the on-board functions, allowing users to simply move and swipe their hand to change certain things. This will all be tied in with a new touch-screen iDrive system.
As for the engines, we can expect all of BMW's latest and greatest units to be on offer, including the recent 3.0-litre turbo straight-six that produces 240kW as used in the new 340i. A hybrid is likely to join the range, and there's talk of an 'M750i' being in the works by BWW's M Performance sub-brand.
A full debut is expected to take place at the Frankfurt Motor Show in September, although, BMW will probably reveal some details and images sooner. Check out the video below by BMW which outlines some of the cool technologies of the new model.
https://youtu.be/mFlMcOfO68M