The new, 2017 BMW 6 Series Gran Turismo has been revealed, coming in to replace the 5 Series Gran Turismo. It's lighter weight, more fuel efficient, and sports a sharper design.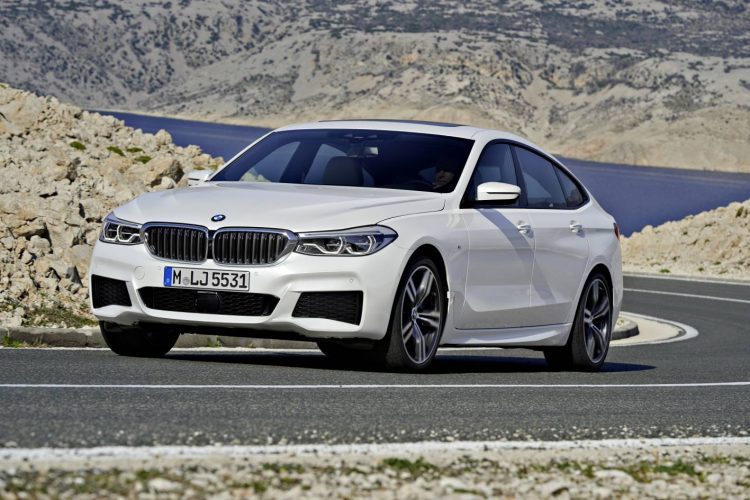 Switching to the 6 Series nameplate helps the new Gran Turismo fit in more accurately with its grand touring nature. You can see some of the design details from the latest 5 Series coming through though, including the sharper front end, more pronounced upper grille area and joining headlights, and sophisticated, elongated taillights around at the back.
It looks like the new model will come in three powertrain options, spanning from the 630i, 640i, and 630d, with the two latter options also available with rear- or all-wheel drive. The base 630i is rear-wheel drive only. All come with an eight-speed automatic transmission.
Kicking off with the 630i, it's powered by a 2.0-litre turbo four-cylinder petrol engine producing 190kW and 400Nm. Across the 0-100km/h sprint, the Gran Turismo stops the clock in 6.3 seconds, which is 0.7 seconds quicker than the equivalent predecessor. Average fuel economy is rated at 6.2L/100km, which is quite impressive for the level of performance.
For the 640i, power comes from a 3.0-litre turbo inline six developing 250kW and 450Nm, with the 0-100km/h sprint coming up in just 5.4 seconds for the rear-drive version and 5.3 seconds in the xDrive AWD model. Fuel economy is rated at 7.0L/100km and 7.7L/100km, respectively.
Lastly, the 630d uses a 3.0-litre turbo-diesel inline six generating 195kW and 620Nm. Acceleration across the 0-100km/h dash takes 6.1 seconds, or 6.0 seconds in the xDrive, meanwhile fuel economy averages span from 5.1L/100km to 5.9L/100km, respectively.
The idea behind the Gran Turismo is that it brings the sportiness of a four-door coupe along with the practicality of a wagon. As such, cargo capacity is rated at 610 litres and up to 1800 litres with the rest seats folded. Both the rear-drive and xDrive models share the same capacities.
Aerodynamic efficiency has been improved for the sleek wagon/coupe, with a drag coefficient of just 0.25, down from 0.29 from the equivalent predecessor. As standard the car comes with unique Air Curtains and Air Breathers with active flap control to aid aero efficiency, along with an automatic rear spoiler. There's also automatic self-levelling rear suspension and optional height adjustable suspension.
Australian details and specifications are yet to be confirmed, but it is expected to go on sale late this year or early in 2018.