Following yesterday's leak, Volvo has officially pulled the wraps off the spectacular new 2015 Volvo XC90 SUV. It presents class-leading safety, an innovative and economical engine lineup, and a smart new design.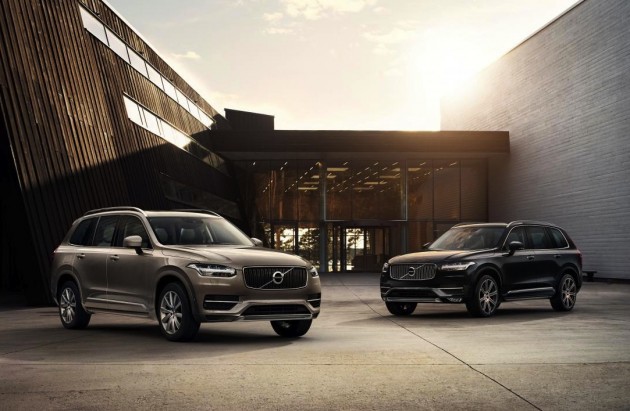 The 2015 XC90 is one of the most advanced passenger vehicles around. It features a whole host of industry-first safety technologies that have all been developed to help Volvo reach its goal of "nobody killed or seriously injured in a new Volvo by 2020".
Some of the safety highlights include run-off road protection which prepares the vehicle and passengers for impromptu off-road excursions, as well as auto brake technology capable of reducing the risk and severity of head-on intersection collisions. Dr. Peter Mertens, senior vice president of research and development at Volvo Car, said,
"Our starting point on safety is the same today as it was when the company was created almost 90 years ago: real-life situations. We study data. We crunch numbers. We innovate. The result is one of the safest cars ever made."
The new XC90 will also showcase the next step in autonomous driving technology thanks to a special function which allows the vehicle to drive automatically in dense, stop-start traffic conditions.
Not only is the XC90 safe, it's also quite advanced in terms of powertrain options. The range-topping XC90 T8 debuts a 2.0-litre turbo and supercharged four-cylinder petrol motor that is paired with an electric drive system, producing a combined output of around 300kW and 640Nm.
Further down the lineup, Volvo will also be offering the T6 with the 3.0-litre turbo inline six petrol (around 240kW), as well as other turbo-petrol and turbo-diesel options, including a D5 twin-turbo diesel producing around 168kW and 470Nm, and a D4 producing 142kW and 400Nm. All of the diesel units will be taken from the company's latest 'Drive-E' engine family.
Inside, Volvo vehicles are renowned for offering clean, clutter-free yet very suave designs. And the same can be said for the new XC90, only this decor is even more modern and luxurious, with fine wood trimmings, soft leathers and lots of advanced creature comforts.
Passengers can sit in absolute relaxation thanks to four-zone climate control while listening to a high-end 1400-Watt 19-speaker Bowers & Wilkins sound system. Exquisite diamond-cut controls are implanted into the dash, while all media systems are operated via a large screen display with Apple CarPlay.
Volvo has come a long way. In fact, the Swedish company has been around since 1927, and although much of its more recent history has been made up of a traditional boxy-shaped vehicles, Volvo certainly has the ability to create stunning vehicle designs. You only need to take a look at the current showroom lineup to see what we mean.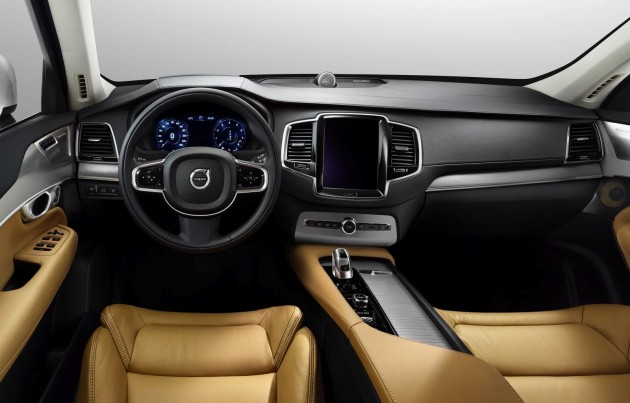 The new XC90 takes design to the next generation. Volvo is excited to debut a new-look iron mark logo with the XC90. It will be the first car to carry the design, which has the iconic arrow aligned with the diagonal slash across the grille. There's also unique T-shaped LEDs in the headlights, curvy panel edges, clean lines, and a prominent new-look vertical grille at the front.
Volvo Australia is yet to announce local lineup details and specifications, or prices for that matter, however, it will go on sale during the first half of 2015.