American muscle cars are alive and well, it would seem, following Ford's unveiling of the latest Mustang, the 2015 Shelby GT350R at the Detroit auto show. It's described as the most "track-ready road-going production Mustang ever built".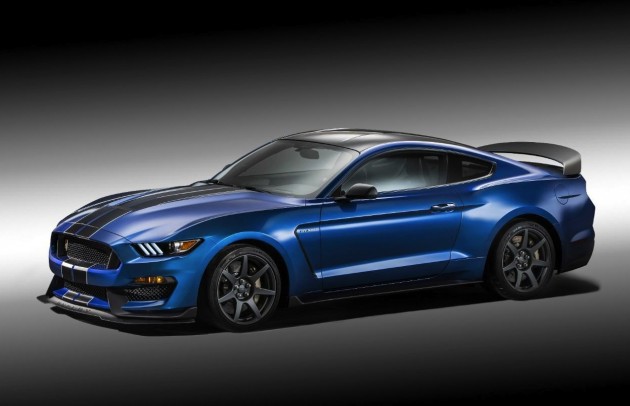 Ford says the latest Mustang will be launched later this year, showing off a track driving competence and preparation never before seen on a production Mustang. This is thanks to vast aero, chassis, and lightweight engineering developments.
The GT350R receives none other than Ford's most powerful naturally aspirated powertrain; a 5.2 liter V8 that produces over 368kW and more than 542Nm of torque. The engine features a flat-plane crankshaft, which is a first for a Ford V8. From the engine there is a six-speed manual (for all those purists out there) with a Torsen limited-slip differential with a 3.73:1 ratio.
Ford has gifted the GT350R with a new aerodynamic kit that includes a new hood vent, rear diffuser, vented wheel wells with turbulence-reducing guard vents, wheel air curtains and side skirts. The front splitter has been redesigned to maximize downforce too, with a carbon fiber rear wing adding downforce on the rear of the car. Other exterior highlights include red pin striping and brake calipers, and optional racing stripes and Shelby GT350R badging.
The GT350R rides on 19-inch lightweight carbon fiber wheels, making Ford the first manufacturer to offer this wheel technology as standard equipment. Ford has also removed the air conditioning unit, stereo, rear seats, with weight saving reductions reaching as far as the removal of the rear camera and carpet.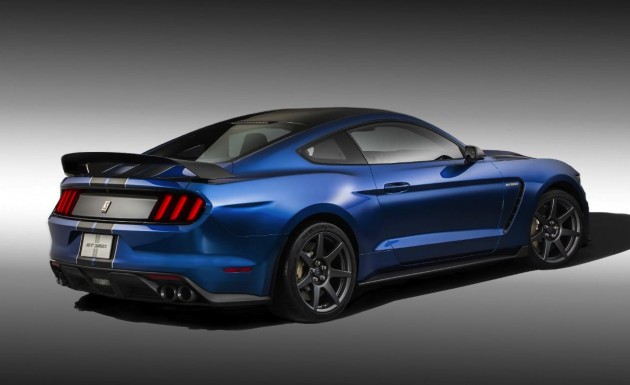 Exhaust resonators have also been removed for weight saving, which according to Ford creates "a sharper exhaust tone". All of these weight saving measures has trimmed 59kg from the GT350 Track Pack model. Raj Nair, Ford group vice president of global product development, said,
"The Shelby GT350R Mustang is a car with the nimbleness and power delivery you want on a road course. This isn't just about horsepower. The Shelby GT350R is an all-around balanced athlete – one that is extraordinarily precise and agile."
Customers who can't go without air-con or a stereo, Ford will be offering the Electronic Package, which adds an 8.0-inch touch-screen infotainment system and air-conditioning.