Saleen has just revealed teaser shots and released details of the upcoming 302 Mustang models. Renowned for making Fords go fast, Saleen looks set not to disappoint its customers with the sixth incarnation of the Mustang.
Saleen will offer the 2015 302 Mustang in three trim levels: White Label, Yellow Label, and Black Label. The White Label model will offer a 5.0-litre V8 engine that develops 335kW and 555Nm, which has been achieved through ECU tuning, fitting uprated fuel injectors, a high-flow air filter and a new exhaust system.
The Yellow and Black Label models will sport a host of modifications including a supercharger, an intercooler system, and cold air induction. As a result power jumps to a supercar-rivaling 477kW and 765Nm.
The 302 Mustang models will include sports-tuned suspension, uprated disc brakes, and a limited-slip differential. Another feature will include changeable electric steering modes.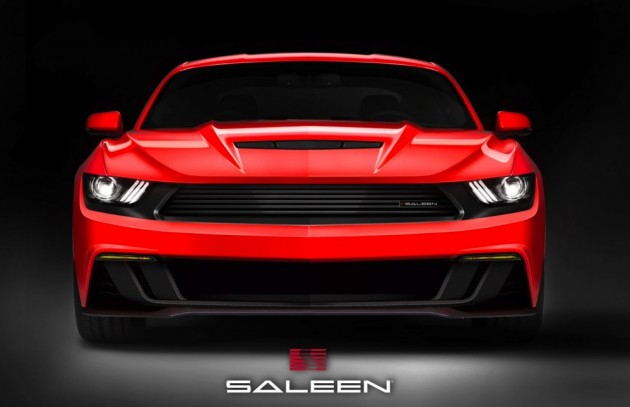 Going by the teaser shots, the exterior of the car will get aggressively-styled front and rear bumper bars, a bonnet scoop, carbon fibre details, LED running lights, bespoke rear quarter window trim, and Saleen various insignia. Buyers will be able to choose from a range of colours along with up to six sets of wheels to pick from.
Pricing for all three Saleen models is yet to be announced, however the company has started taking orders for customers who leave the required deposit.
It's not yet known whether Saleen will offer the 302 Mustang in right-hand drive. We will find out more when the car is revealed in full.
The regular 2015 Ford Mustang will go on sale in Australia around the middle of next year, and will be available with the choice of an EcoBoost 2.3-litre turbocharged four-cylinder or a naturally-aspirated V8.
Around 13,000 Aussie punters have registered their interest in owing the new Mustang, so it's certainly hotting up to be a hit. Local pricing is yet to be announced.