Porsche has revealed the 2015 Porsche Cayenne GTS which swaps the previous naturally aspirated V8 with a new 3.6-litre twin-turbo V6. Despite the drop in two cylinders the new model offers more power and torque, and improved fuel economy.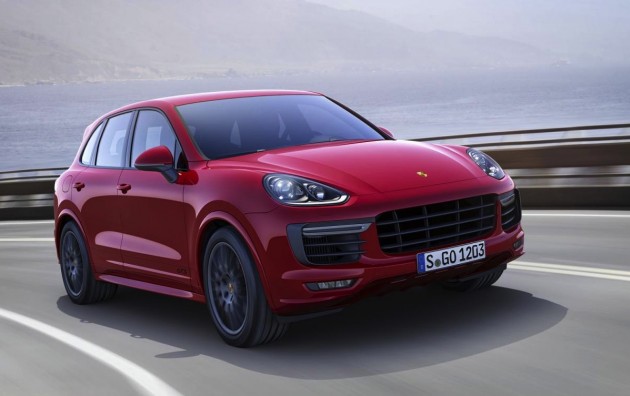 Downsizing is a big trend for manufacturers at the moment as they all strive to meet ever-tightening emissions and consumption regulations. For the Cayenne GTS, the new twin-turbo V6 produces 323kW of power and 600Nm of torque, which is 14kW and 85Nm more than the outgoing 4.8-litre V8 version.
Performance is also improved, with 0-100km/h coming up in 5.2 seconds or 5.1 seconds with the Sport Chrono package. This is 0.5 and 0.6 seconds quicker, respectively. Perhaps more importantly though, fuel consumption has dropped from 9.9L/100km to 9.2L/100km.
Aside from the change in powertrain, the GTS continues to be offered with the Porsche Active Suspension Management system with air dampers and adjustable settings. The sports suspension brings the ride height down by 20mm compared with the regular models. Additionally, the GTS gets huge 390mm front and 358mm rear brakes, taken from the Turbo, to ensure maximum braking performance.
The GTS variant, as before, sits in as the top model just beneath the flagship Turbo. It features the aggressive Turbo front bumper bar with large air intakes, a roof spoiler, and various black highlights including 20-inch alloy wheels inspired by the RS Spyder design.
Inside, passengers are presented with bespoke sports seats with eight-way electronic adjustable positions for the driver, plenty of leather and Alcantara, red stitching, 'GTS' logos, and Porsche's latest user interface and multimedia screen with full connectivity.
The 2015 Cayenne lineup will go on sale in Australia, including the GTS, in February next year. Check out the video below to see how the GTS performs in the hands of Porsche test driver and former rally racer Walter Rohrl. Pricing for the new range is as follows (excluding on-road costs).
2015 Porsche Cayenne Diesel – $104,700 (up from $100,600)
2015 Porsche Cayenne – $108,000 (up from $100,200)
2015 Porsche Cayenne S – $139,900 (up from $138,500)
2015 Porsche Cayenne S Diesel – $143,200 (up from $141,800)
2015 Porsche Cayenne S Hybrid – $139,200 (down from $149,900)
2015 Porsche Cayenne GTS – $154,600 (up from $150,400)
2015 Porsche Cayenne Turbo – $230,800 (up from $221,600)