On first impressions, BMW's all-new G20 3 Series ticks all the right boxes for natural 3 Series progression. It's more powerful, more agile, lighter weight, more efficient, and more intelligent than ever before. It's also slightly larger to improve passenger comfort.
Some tradition has been lost in the translation, though. The trademark kidney grilles at the front are now merged in the middle. This is a new design philosophy that we can expect to find on all showroom models in the future. The twin circular headlights are gone as well, and instead switch to boxy albeit twin beam clusters.
So, what's it like to drive? We are putting together a full written review but we thought we'd also put together a detailed video review, in POV style, to give you a virtual test drive beforehand. For this test drive we headed down to the Southern Highlands in NSW, starting at Jamberoo Lookout and heading down and back up Jamberoo Mountain Road, before stopping off at Robertson Pie Shop, and then towards Mittagong via the country back roads through Glenquarry.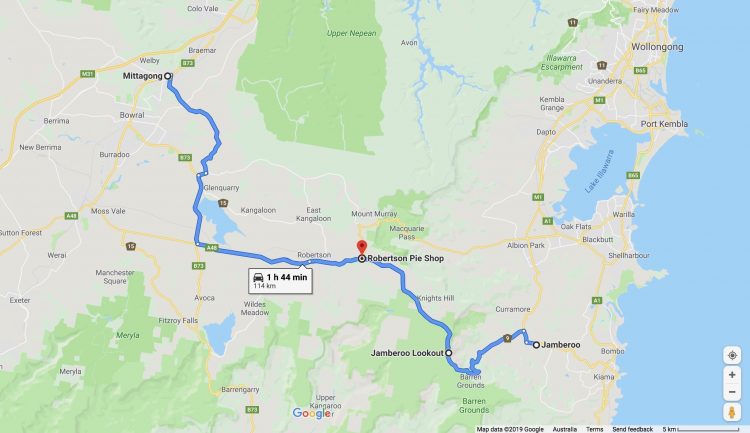 There are some great roads around this area, and particularly good roads for test driving vehicles. You have tight, twisty mountain passes to gauge the agility, along with open country roads to stretch the powertrain's legs, and poor-surface roads to give the suspension a workout.
Specifically, we're in the G20 330i with the M Sport pack. It comes with a 2.0-litre turbo four-cylinder that produces 190kW and an impressive 400Nm. This is up 5kW and 50Nm on the predecessor.
It goes very well indeed. During the test drive we did a quick 0-100km/h demonstration for you using our Vbox, and it returned surprisingly quick results. And this wasn't even a proper test – conducted at a relatively high altitude of around 600m.
Stay tuned for the full review. In the meantime, enjoy 36 minutes of 2019 BMW 330i in the video below.