Mazda has announced some updates for one of Australia's favourite cars in the form of the model year 2015 Mazda3. The model update comes with more features while offering some price reductions.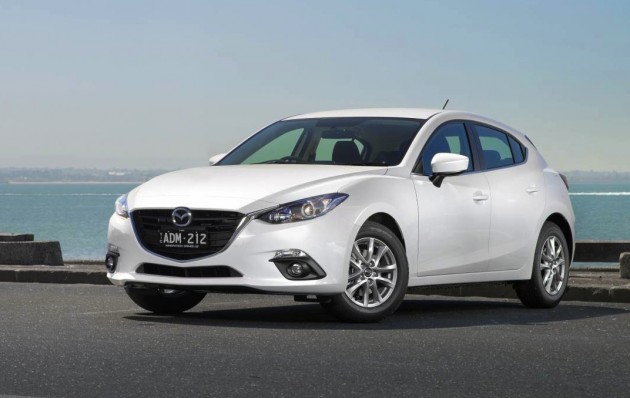 Starting with the entry model Neo, it now comes with 16-inch alloy wheels and rear parking sensors as standard. Moving up to the Maxx gets you front fog lights, which are also now standard on the Touring variants.
Despite the added features, the Neo starting price remains unchanged even with $1200 in added extras, while the Maxx, with its MZD 7.0-inch touch-screen and sat-nav, drops $600. The Touring, SP25, and SP25 GT all offer price drops of up to $800.
As for the flagship Astina, prices have been slashed by $1150 and the XD Astina diesel comes down by $940. These variants come with the otherwise optional i-ActivSense technologies as standard, boosting overall safety.
All models come with either a 2.0-litre four-cylinder producing 114kW, a 2.5-litre developing 138kW, or in the case of the XD Astina a 2.2-litre turbo-diesel producing 129kW and 420Nm. These come with a six-speed manual or an optional six-speed auto. Martin Benders, Mazda Australia managing director, said,
"In a year when the small car segment contracted, All-New Mazda3 not only grew sales by 3 per cent, but was the firm favourite amongst private and business fleet buyers. With the addition of new features and a reduction in price, we expect Mazda3 will maintain its overwhelming appeal to these buyers in 2015."
Last year the Mazda3 was the second-best-selling vehicle overall in Australia, only just losing out to the Toyota Corolla. The 2015 model is available from Mazda dealerships now, with prices starting from the following (excluding on-road costs):
2.0L (sedan or hatch)
2015 Mazda3 Neo manual – $20,490 (price unchanged)
2015 Mazda3 Neo auto – $22,490 (price unchanged)
2015 Mazda3 Neo Safety manual – $21,990
2015 Mazda3 Neo Safety auto – $23,990
2015 Mazda3 Maxx manual – $23,390 (down $600)
2015 Mazda3 Maxx auto – $24,390 (down $600)
2015 Mazda3 Maxx Safety manual – $23,890 (down $600)
2015 Mazda3 Maxx Safety auto – $25,890 (down $600)
2015 Mazda3 Touring manual – $24,790 (down $700)
2015 Mazda3 Touring auto – $26,790 (down $700)
2015 Mazda3 Touring Safety manual – $26,290 (down $700)
2015 Mazda3 Touring Safety auto – $28,290 (down $700)
2.5L (sedan or hatch)
2015 Mazda3 SP25 manual – $25,190 (down $700)
2015 Mazda3 SP25 auto – $27,190 (down $700)
2015 Mazda3 SP25 Safety manual – $26,690 (down $700)
2015 Mazda3 SP25 Safety auto – $28,190 (down $700)
2015 Mazda3 SP25 GT manual – $29,790 (down $800)
2015 Mazda3 SP25 GT auto – $31,790 (down $800)
2015 Mazda3 SP25 GT Safety manual – $31,090 (down $800)
2015 Mazda3 SP25 GT Safety auto – $33,090 (down $800)
2015 Mazda3 SP25 Astina manual – $35,040 (down $1150)
2015 Mazda3 SP25 Astina auto – $37,040 (down $1150)
2.2L Diesel (hatch only)
2015 Mazda3 XD Astina manual – $39,290 (down $940)
2015 Mazda3 XD Astina auto – $41,290 (down $940)