The Mazda3 is a car that really needs no introduction. In a market segment more hotly contested than the State of Origin, it locks horns with the Toyota Corolla and Hyundai i30 for the title of Australia's favourite small car and Australia's best-selling vehicle overall.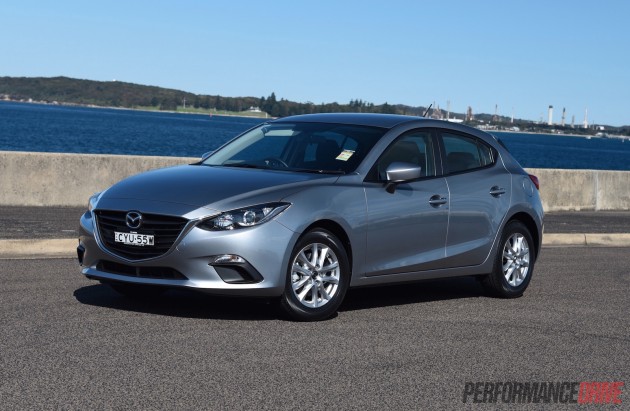 As a result, the 3 needs to tick a lot of boxes in order to keep up with the competition; practicality, economy, easy to drive, low insurance costs, and safety being the top priorities for buyers in this segment. So then, does the 2015 Mazda3 Neo really deserve its place as one of Australia's best sellers? Let's find out.
We're testing the complete entry-level Neo hatch variant with the six-speed manual transmission. Prices start at $20,490, or $22,490 when optioned with the six-speed auto (excluding on-road costs). A sedan version is also available at no price change. These prices put it slightly above the entry-level competitors in terms of price, many of which start at $19,990.
2015 Mazda3 Neo – THE SPECS
Engine: 2.0-litre four-cylinder
Output: 114kW@6000rpm / 200Nm@4000rpm
Transmission: Six-speed manual
Drive type: Front-wheel drive
Wheels: F: 16×6.5, 205/60  R: 16×6.5, 205/60
ANCAP: Five stars (scored 36.4 out of 37)
Tare weight: 1230kg
Power-to-weight: 10.7:1 (kg:kW)
Official fuel economy: 5.9L/100km
Economy during test: 7.9L/100km
Fuel capacity/Type: 51L/91 RON
Power efficiency: 19.3kW:L/100km
0-100km/h as tested: 8.5 seconds
Priced from: $20,490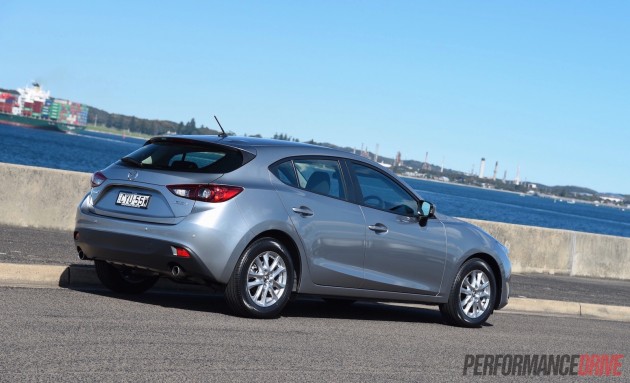 2015 Mazda3 Neo – THE PACKAGE
The big question is whether or not the cheapest offering gets you a car with about as much equipment as an Amish nightclub? The answer is no. Mazda has indeed packed a lot of equipment into this little base model hatch. It comes with 16-inch alloys, cruise control, Bluetooth phone and audio, USB, SD card and aux audio inputs, rear parking sensors, and keyless start.
Surely then, coming in at $20k with all this equipment, it must look about as appealing inside as a service station meat pie? Nope. There's faux carbon fiber plastic that makes its way around parts of the steering wheel, center console, and around the gear lever that, to some, may seem tacky, but it is unquestionably more appealing than a lot of the other cabins on offer at this price point. Mixed with some glossy piano black around the vents and door sills, and contrasted by some silver accents, along with nice flowing contours and relaxing shapes, this little thing really does offer an impressive cabin that in a lot of respects, shares very little connection to the asking price.
The cloth seats don't look like much at first glance, but they prove soft and comfortable when you jump in, with a great amount of side bolstering giving you a nice comfortable hug as you cruise around. In the past, Mazda has usually been on or above par with domestic rivals like the Corolla in terms of interior appearance and quality. But with this cabin, Mazda is really taking the fight to its more premium competitors like the European Volkswagen Golf.
One downside to the interior in our opinion is the stereo control unit that looks like a tablet-style touch-screen system that's been glued to the top of the dashboard. It's not a touch-screen though. On the flip side the sound quality from the four-speaker system is right on and will leave no potential customer unhappy.
One of the most important boxes that the Mazda3 has to tick is practicality. Inside the cabin there's an array of storage options around the place, with a decent-size centre box, cup and bottle holders, and for a hatchback, rear legroom is impressive. The rear seat won't have any of your taller friends opting to take the train home either, offering good headroom for the segment.
When it comes time to carry the groceries or pack for a road trip, the hatchback variant has a 308-litre boot, while the sedan can swallow up 408 litres worth of whatever you throw in it. Compared with the leading hatchback market rivals, like the Hyundai i30 (378L), Toyota Corolla (280L), and Volkswagen Golf (380L), the Mazda's boot capacity is satisfactory. It offers a long boot floor but is perhaps not as deep as some.
We'll leave the judgment of exterior aesthetics up to you, but you can't help but at least admire Mazda's infusion of its Kodo design language over the bodywork. It's sporty and semi premium, with hints of chrome detailing around the front end, with a spoiler at the back and a black 'diffuser' section underneath.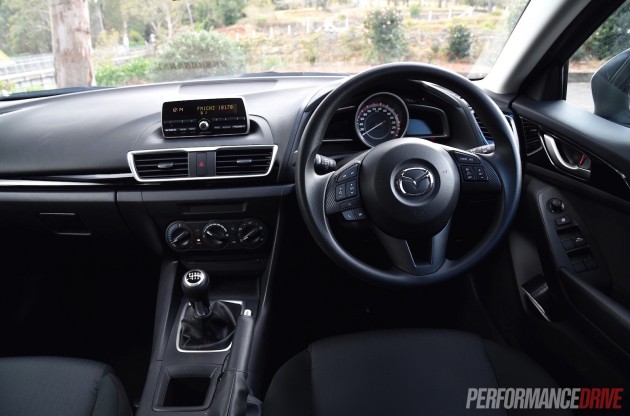 2015 Mazda3 Neo – THE DRIVE
The base Neo hatch receives Mazda's 2.0-litre SkyActiv-G four-cylinder engine, good for 114kW of power at 6000rpm and 200Nm of torque at 4000rpm. The main downside of the powertrain is that it is doughey down low in the rev range, with peak torque accessible at 4000rpm, which in an urban environment can prove less tractable than some of the turbocharged rivals.
The Mazda3 is one of the more rewarding cars in this segment when you get a bit hot under the collar. The steering feel is particularly impressive for a vehicle of its caliber; super light in city cruising, and weighting up nicely when getting a bit enthusiastic in the bends. Coming in at 1230kg, it feels light on its feet, with a respectable stiffness while cornering.
Mazda has taken some serious steps in decreasing the amount of road noise and tyre roar entering the cabin. This translates to a refined ambience inside the cabin. Part of this is down to a great suspension setup. It's rubbery and taut yet absorbent over bumps. We were genuinely impressed with the sportiness despite not being the sports variant. You needn't worry about a harsh ride either, with tall tyres (205/60) mounted on alloy wheels and the soft seats, it is as comfortable as they come.
Using the manual transmission does enhance whatever fun factor a car like this can possibly possess. It's a short and smooth throw between gears, like slicing through warm butter, and the clutch offers plenty of feel and progression. This really is the perfect car for an L-plater to learn manual transmission driving.
Mazda proudly boasts about the fuel economy of its 'SkyActiv' range of powertrains, and the ADR figures of 5.9L/100km on a combined cycle are hard to argue. However, during our time tooting around the city and some longer distance highway driving, the claimed figures were hard to attain. Having said that, the petrol Mazda3 is still a frugal hatch in comparison to anything larger. Over the space of a week driving it, much of which in a thirsty stop-start city environment, we returned a figure of 7.9L/100km.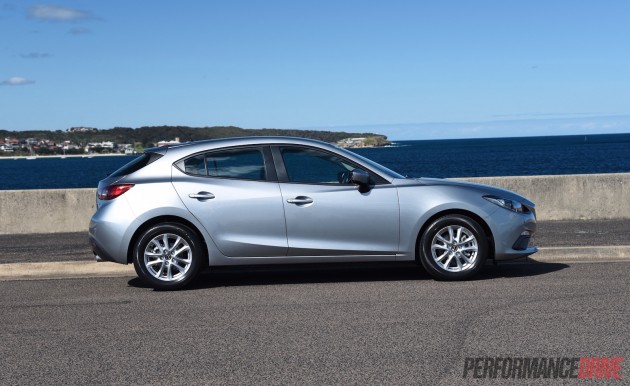 2015 Mazda3 Neo – THE VIDEO
2015 Mazda3 Neo – THE VERDICT
Sometimes when testing the base version of a car, you get the sense that the manufacturer has produced something sub-par in the hope that you'll spend a few extra thousand to move up a variant to get the nicer interior, more equipment and more power. However, the Mazda3 Neo really makes you reevaluate the value of a dollar, or in this case 20,000 of them. It drives, feels and looks like a car deserving a premium of thousands more.
As a complete package, the Mazda3 Neo is close to flawless. It is no coincidence it's one of the best-selling cars here in Australia. It is currently sitting in second place in terms of local sales (through July), only losing out to the fleet favourite Toyota Corolla: 23,252 versus 25,323 sales.
PROS:
– Practical interior with nice design
– Reliability and dependability
– Sales success in Australia; so many buyers can't be wrong?
– Well packaged for the price
– Easy to drive with enjoyable handling/steering/suspension
– Decent performance

CONS:
– Engine is a bit harsh and noisy at some points of rev range
– Not as fuel efficient as official rating suggests