Hyundai has unveiled the new Euro-spec 2015 i30 Turbo with the company's latest 1.6 T-GDI engine. It coincides with the debut of the facelifted i30 range.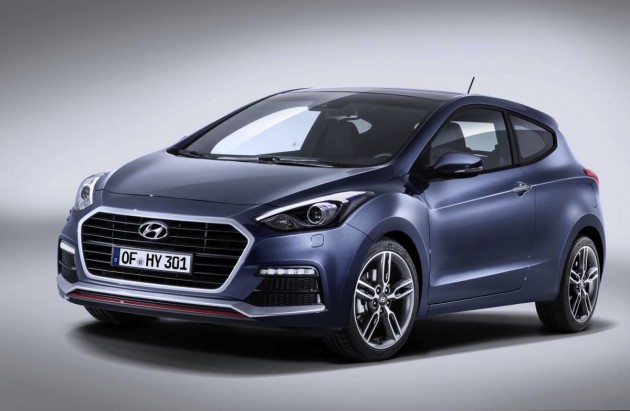 As previously expected, Hyundai is looking to take some sales from the popular 'warm' hatch market segment. And seen as though the i30 is one of the company's most popular models, a turbo edition certainly sounds like a good idea.
We'll get straight to the point. Under the bonnet sits a 1.6-litre turbo four-cylinder. The unit produces 137kW of power and 265Nm of torque, which is probably not what you were all expecting. However, Hyundai says the engine has been specifically tuned for the i30 on the Nurburgring. It's able to sprint from 0-100km/h in a rather ordinary 8.0 seconds.
Instead of outright power though Hyundai says the i30 Turbo is engineered to offer sporty driving dynamics and everyday usability. As such, it comes with special sports suspension and a quicker steering rack with just 2.78 turns lock-to-lock. Meanwhile, the average fuel consumption is rated at 7.3L/100km.
To give the sports edition a more exclusive look, there's a set of 18-inch alloy wheels, a bespoke front grille and lower spoiler lip, new bumper bars with red highlights, twin exhausts, and LED lights. The interior is also personalised with a unique instrument cluster and seats, with a sporty gear shifter and door trims.
As for the regular i30 variants for 2015, a fresh 'Kappa' 1.4-litre four-cylinder engine has been introduced producing 74kW and 134Nm, which is lighter and more fuel efficient than the Gamma 1.6 that it replaces. It consumes an average of 5.6L/100km.
For the diesel lineup, there's an 81kW/280Nm 1.6, and a higher output 100kW and 280Nm version, at least in Euro specification. Both are available with a new seven-speed dual-clutch automatic, and offer a fuel economy average of just 3.6L/100km and 4.4L/100km. The seven-speed isn't available with any of the petrol motors, unfortunately.
Hyundai Australia is yet to make any announcements on the local 2015 lineup. We'll keep you updated as soon as we hear more.