Hyundai has unveiled the new generation 2015 i20 at the Paris Motor Show. The new model will be the Korean manufacturer's first car to receive its newly-designed 1.0-litre turbo three-cylinder engine. Hyundai says the small-capacity engine offers enhanced performance, driving pleasure and efficiency.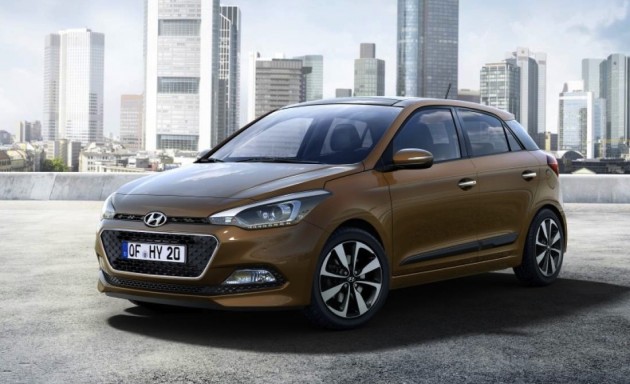 The exterior sports a fresh, more upmarket design as revealed a couple of months ago. There's a new grille-less front end, LED daytime running lights, black C pillars – reminiscent of the MINI Cooper – Kia Optima-esque lower front bumper, chrome door handles, and a panoramic glass roof .
Take a look inside and you'll see there's also an all-new interior with increased space and equipment, and a more modern design. All of it has been designed and developed in Europe by Hyundai's European engineers.
Headlining the unveiling is of course the new downsized 'T-GDI' 1.0-litre turbo three-cylinder engine. It is the first of a new-generation of small-capacity engines for Hyundai, developing up to 88kW and 172Nm. It's set to replace the naturally-aspirated 1.4-litre petrol in the current i20 range, which will see power and torque increase by 14.5kW and 36Nm, despite the drop to three cylinders.
Fuel consumption for the current 1.4-petrol i20 for the combined cycle is 5.3L/100km. While official figures are yet to be released, it's safe to assume the new engine will sit somewhere around the 4.5L/100km mark.
Allan Rushforth, senior vice president and COO at Hyundai Motor Europe, said:
"The i20 is a truly European car and we are proud to present it here in Paris. With our new 1.0-litre engine we follow the trend of small turbocharged engines, which provide great driving performance while being very efficient. The new engine underlines Hyundai's commitment to sustainable mobility in Europe and gives an insight into future drivetrain innovations from Hyundai."