In under a week after the 2015 Holden VF Commodore makes its debut, Holden's performance arm, HSV, has announced the 2015 lineup which goes on sale next month.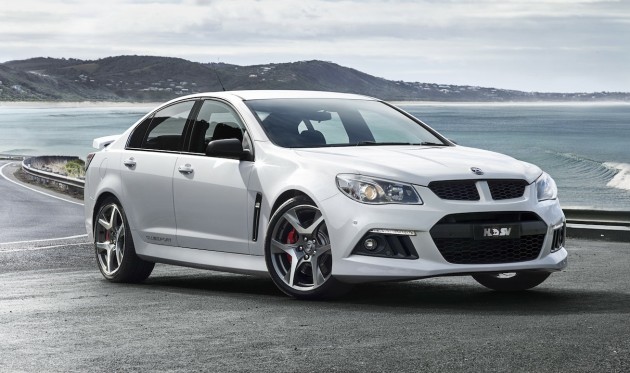 It's good news for power-hungry fans, as all models come with some output increases. The entry-level Clubsport and Maloo get a bi-modal exhaust and X-pipe system which helps boost power from 317kW to 325kW and 550Nm.
As for the Clubsport R8, Maloo R8 and Tourer R8, these now come with the previous SV Enhanced option, as standard. The kit bumps power up to 340kW (from 325kW) and torque up to 570Nm (from 550Nm). In this tune, it becomes the most powerful naturally aspirated Australian production V8 on the market.
Like the 2015 Commodore SS V Redline, all auto versions of the updated HSV range get paddle-shifters behind the steering wheel. A six-speed manual is of course available for all models as well, however, it's no longer offered with the Clubsport R8 Tourer.
In terms of styling changes, the 2015 HSV is very similar to the outgoing lineup. The GTS gets new 20-inch forged alloy wheels, with the R8 getting 'Tornado Grey' 20-inch items, while a special 'Hyperflow' rear spoiler has been introduced for those wanting more of a visual impact.
Sitting at the top end of the Maloo range is the mighty new GTS Maloo, which is the most powerful ute ever offered in Australia, and potentially one of the quickest utes ever made. It comes with the GTS 6.2-litre supercharged V8 producing 430kW and 740Nm. Just 250 examples will be available (10 for New Zealand).
HSV will officially launch the updated range in November. Prices have risen for some variants. See below for the full price list including differences as indicated. All figures do not include on-road costs.
2015 HSV Maloo manual – $59,990 (up $1000)
2015 HSV Maloo auto – $62,490 (up $1300)
2015 HSV Maloo R8 manual – $69,990 (up $1700)
2015 HSV Maloo R8 auto – $72,490 (up $2000)
2015 HSV GTS Maloo manual – $87,990
2015 HSV GTS Maloo auto – $90,490
2015 HSV ClubSport manual – $61,990 (up $1000)
2015 HSV ClubSport auto – $64,490 (up $1300)
2015 HSV ClubSport R8 manual – $73,290 (up $2000)
2015 HSV ClubSport R8 auto – $75,790 (up $2300)
2015 HSV ClubSport R8 Tourer auto – $76,490 (up $2000)
2015 HSV Senator Signature manual and auto – $83,990
2015 HSV Grange auto – $85,990
2015 HSV GTS manual – $94,490
2015 HSV GTS auto – $96,990